Rock & Roll History – "At The Hop" Danny & The Juniors – Bandstand 1958
Rock & Roll History
Danny and The Juniors
At The Hop – Bandstand (1958)
Danny Rapp, Frank Maffei, Dave White and Joe Terranova.
*
"At the Hop" was played for Dick Clark, whose popular music show American Bandstand was broadcast live from their hometown of Philadelphia.
Dick didn't have any immediate openings on the show, but as luck would have it, Little Anthony and the Imperials canceled an appearance soon thereafter and Clark asked Danny & the Juniors to fill in as replacements.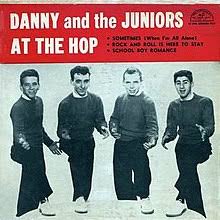 *
"At the Hop"
Danny and the Juniors
Bandstand 1958
From You Tube
Danny & the Juniors are a doo-wop and rock and roll vocal group from Philadelphia, Pennsylvania originally consisting of Danny Rapp, Dave White, Frank Maffei and Joe Terranova. Formed in 1955, they are most widely recognized for their 1957 hit single "At the Hop".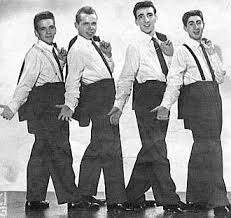 Danny Rapp (lead), Frank Maffei (2nd tenor), Joe Terranova (baritone) (aka Joe Terry), and Dave White Tricker (1st tenor) (aka Dave White) met at John Bartram High School and started singing together in the mid 1950s.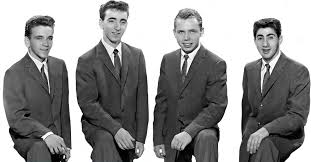 In 1957, they recorded a John Madara and Dave White penned song "Do the Bop", and Singer took it to a fellow DJ named Dick Clark. Clark liked it and suggested changing their name to the Juniors and renaming their song. Changing "Let's all do the Bop" to "Let's go to the Hop" proved to be successful, and it became a local hit in June 1957. In December 1957, they received a call from Dick Clark to be a last minute substitution for a no-show band on American Bandstand, and they performed it for a national audience. The song became a nationwide hit after ABC Paramount bought the master recording and issued it in January 1958. 
"At the Hop" proved to be an immediate success. It became a regional hit, selling 7,000 copies in one week in Philadelphia alone..
"At the Hop" proceeded to climb up the National charts in December of 1957, reaching number one, where it remained for seven weeks.
Join Joanne and Frank on Facebook at
and