Dean Martin and Frank Sinatra – Excellent Rare Medley Nov. 1, 1960
Dean Martin and Frank Sinatra 
Excellent & Rare Medley
November 1, 1960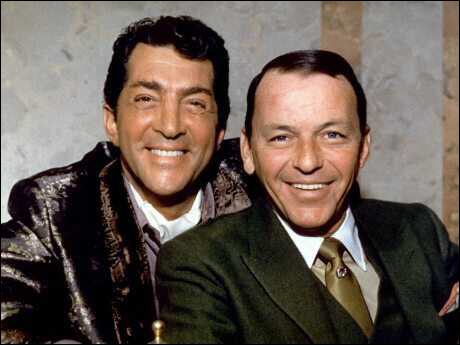 Francis Albert Sinatra was born on December 12, 1915, in an upstairs tenement at 415 Monroe Street in Hoboken, New Jersey, the only child of Italian immigrants Natalina "Dolly" Garaventa and Antonino Martino "Marty" Sinatra. 
The couple had eloped on Valentine's Day, 1913, and were married at the city hall in Jersey City, New Jersey.  They later got remarried in a church. Sinatra weighed 13.5 pounds (6.1 kg) at birth and had to be delivered with the aid of forceps. The Forceps actually caused severe scarring to his left cheek, neck, and ear, and perforated his ear drum, damage that remained for life. 
Due to his injuries at birth, his baptism was delayed for several months. A childhood operation on his mastoid bone left major scarring on his neck, and during adolescence he suffered from cystic acne that scarred his face and neck. Some children called him "Scarface" when he was eleven; this made him so angry he wanted to physically assault the doctor who had delivered him. Sinatra was raised Roman Catholic. 
Martin was born Dino Paul Crocetti on June 7, 1917, in Steubenville, Ohio Dean was the son of Italian father Gaetano Alfonso Crocetti (1894–1967) and Italian-American mother Angela Crocetti (née Barra; 1899–1966). His parents were married in 1914.
His father, who was a barber, was originally from Montesilvano, Abruzzo, and his mother's origins are also believed to be from Abruzzo, although they are not clearly known.
Dean Martin had an older brother named William Alfonso Crocetti (1916–1968). His first language was Italian. He did not speak English until he started school at the age of five. Dean attended Grant Elementary School in Steubenville, where he was bullied for his broken English.
As a teenager, he played the drums as a hobby. Dean dropped out of Steubenville High School in the tenth grade because he thought he was smarter than his teachers. He bootlegged liquor, worked in a steel mill, served as a croupier at a speakeasy and a blackjack dealer, and was a welterweight boxer.
Enjoy Dean and Frank… Together again

.