Eggplants Amalfi Style (Melanzane Amalfitane)
Eggplants Amalfi Style 
(Melanzane Amalfitane)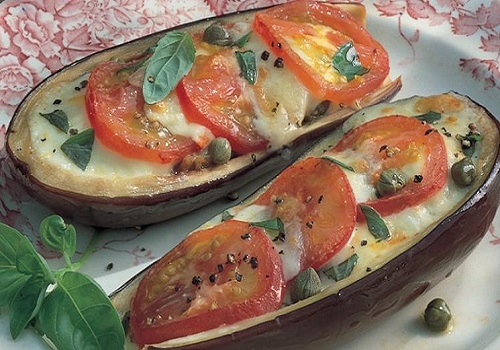 Ingredients:
3 medium eggplants
3 tablespoons extra virgin olive oil
1 onion, chopped
1 large clove garlic, crushed
2 teaspoons fresh chopped basil
6 drained anchovy fillets, chopped
6 oz (175 grams) mozzarella cheese, cut into thin slices
3 large tomatoes, sliced
1 and 1/2 tablespoons drained capers, chopped
Salt and freshly milled black pepper
Directions:
Trim the stalks from the eggplants and slice them in half length ways.
Use a teaspoon, to get out the pulpy centers of the eggplants, leaving a shell not less than 1/4 in (5 mm) thick.
Sprinkle the shells liberally with salt and leave upside down to drain for 45 minutes.
Meanwhile, chop the pulp.
Heat 2 tablespoons of the olive oil in a saucepan and gently fry the onion until softened.
Stir in the chopped eggplant pulp, crushed garlic and half the basil.
Season with salt and pepper and cook over a low heat for about 10 minutes, stirring now and then.
Stir in the chopped anchovies.
Next, preheat the oven to 350°F (180°C) Gas Mark 4 then wipe the eggplant shells with kitchen paper and arrange them in the roasting tin or baking dish.
Spoon the onion and pulp mixture into the shells, then arrange alternate slices of cheese and tomato on top of each eggplant half and sprinkle with the chopped capers.
Sprinkle with the remaining basil and dribble a little more olive oil over each.
Season and bake, uncovered, in the top of the oven for 40 minutes. Serves 3-6.