Fresh Tuna Rolls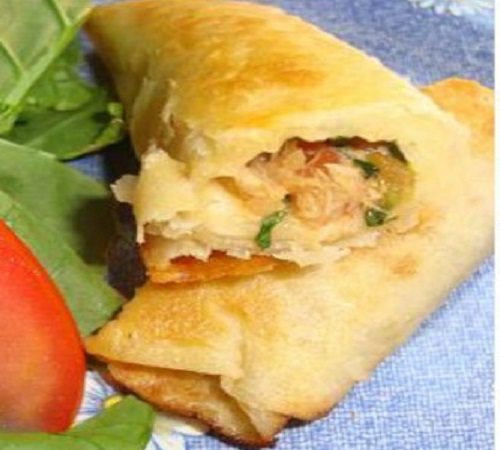 Ingredients:
1/2 cup bread crumb
2 tbsp milk
1 garlic clove crushed
2 tbsp chopped parsley
2 eggs, hard boiled
1 and 1/2 tbsp grated Pecorino cheese
1 egg
1 small onion
4 fresh tomatoes or 1 cup tomato sauce
1 thick sliced fresh tuna fish
12 very fine slices tuna fish (If fresh tuna is not available sword fish is equally good.)
Directions:
Soak the bread crumbs in milk.
Chop the parsley with garlic.
Hard boil two eggs and chop.
Squeeze out the excess milk from the bread crumbs, put it in a bowl and mix in the chopped parsley and hard boiled eggs, the raw egg, the grated Pecorino cheese and season with salt and pepper. Set aside.
Chop the onion and fry it in a little olive oil with the squashed tomatoes (preferably without skin) or tomato sauce.
Cook for about ten minutes.
Mince the thick slice of tuna and add to the pan and cook stirring for two minutes.
Remove just the cooked tuna drained of the sauce and add it to the mixture and amalgamate.
Place a little of the mixture on each slice of fresh tuna keeping well inside the edges and roll the fish slices closed.
Seal the rolls with toothpicks or string and fry for a few minutes in hot olive oil to sear the flesh then add the tomato sauce and cook on low heat for 5 minutes.
Remove the toothpicks or string and place on a serving dish and bring to the serving table very hot.