Shrimp Risotto with Spinach and Basil
Shrimp Risotto with Spinach and Basil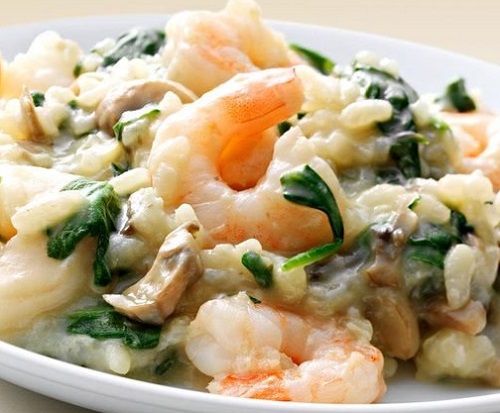 Ingredients:
 6 cups (about) low-salt chicken broth
1 pound uncooked large shrimp, peeled, deveined
2 tablespoons extra virgin olive oil
1 and 1/2 cups chopped onion
2 large garlic cloves, minced
1 and 1/2 cups Arborio rice or medium-grain white rice (about 9 and 1/2 ounces)
1/2 cup dry white wine
One 6-ounce package baby spinach leaves
1/2 cup freshly grated Parmesan cheese
1/4 cup chopped fresh basil
Additional grated Parmesan cheese
 Directions:
 Bring 6 cups broth to simmer in medium saucepan.
Add shrimp.
Turn off heat, cover, and let stand until shrimp are just opaque in center, about 3 minutes.
Using slotted spoon, transfer shrimp to small bowl; cover with foil to keep warm.
Cover broth to keep warm.
Heat olive oil in heavy large saucepan over medium heat.
Add chopped onion and saute until tender, about 5 minutes.
Add minced garlic and stir 1 minute.
Add rice and stir until edge of rice is translucent but center is still opaque, about 2 minutes.
Add wine and cook until wine is absorbed, stirring occasionally, about 2 minutes.
Add 3/4 cup chicken broth.
Simmer until almost all broth is absorbed, stirring often, about 2 minutes.
Continue to add broth, 3/4 cup at a time, until rice is just tender and mixture is creamy, stirring often and allowing almost all broth to be absorbed after each addition, about 25 minutes total.
During last 5 minutes, add spinach in 4 batches, stirring and allowing spinach to wilt after each addition.
Mix in shrimp, 1/2 cup Parmesan cheese, and basil.
Season risotto to taste with salt and pepper.
Spoon risotto into shallow bowls and serve, passing additional cheese separately. Makes 6