Gnocchi alla Sorrentina : Baked gnocchi Sorrentina with tomatoes and mozzarella.
Gnocchi alla Sorrentina : Baked gnocchi Sorrentina with  tomatoes and mozzarella.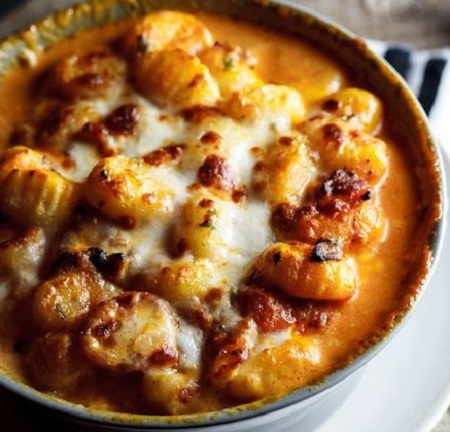 Ingredients: 
800 gr. Gnocchi Italian Potato
800 gr. tomato puree
200 gr. Mozzarella
½ onion
1 bunch of fresh basil
100 gr. grated Parmesan cheese
Extra virgin olive oil
Salt to taste
Preparation: 
Cut the mozzarella into cubes and set aside.
Finely chop the onion and fry in extra virgin olive oil, when the onion takes on the characteristic blonde color, add the tomato puree and salt and simmer the sauce for 20 minutes, turning with a wooden spoon. Turn off the sauce before the sauce is too inspessisca (thick) and, only after the fire is out, add the fresh basil leaves preserving whole.
In the meantime, boil the gnocchi in salted water for a few minutes: drain not just go back to the surface.
You now have the gnocchi in a baking dish, sprinkling them with the tomato sauce, mozzarella cubes and finally sprinkle with the Parmesan cheese.
Bake the dish at 200 ° C ( 390F ) and for 10/15 minutes: the gnocchi are ready when they take on a golden color parmesan and mozzarella is melted.