Graffe with ricotta cheese
Graffe with ricotta cheese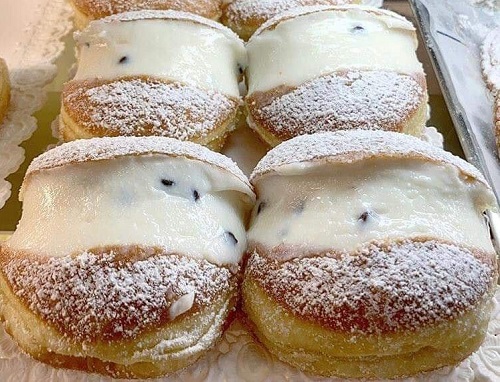 How to make a traditional sweet from the Italian town of Trapani: Ricotta filled Graffe.
Ingredients
Servings 12
Ricotta Filling
    1.1 lbs. ricotta
    12.5 oz. sugar
    1 tsp vanilla extract
    2.5 oz dark chocolate chips
    1 pinch salt
Graffe
    1.1 lbs. flour
    1.75 oz. lard
    1.75 oz. sugar
    2 ¼ tsp yeast
    1 cup + more to make batter, lukewarm
    1 egg
    1 pinch salt
    Vegetable oil for deep frying
    Olive oil for handling the dough
    Icing sugar for dusting
Instructions
Ricotta Filling
    Put all the ingredients (apart from the chocolate chips) in the bowl of an electric mixer and whisk until smooth.
    Fold in the chocolate chips. Let the filling rest in the fridge for at least 2 hours.
Graffe
    Dissolve the yeast and half of the sugar in the lukewarm water and set aside to activate.
    Sift the flour in the bowl of an electric mixer fitted with the hook attachment. Add the rest of the sugar, lard and salt. When frothy, add the water with the yeast. Knead until it comes together.
    Remove the hook and put the paddle attachment. While kneading, add the egg and enough water to get a thick and sticky batter (like in the picture).
    Let it rise for 1 hour, covered, in a greased bowl.
    Grease your hands with olive oil and make 12 balls the size of small oranges.
    Put them on a tray covered with baking paper and let them rise for 30 minutes.
    Deep fry them at 340°F until golden brown. Put them on a plate covered with kitchen paper to drain the excess oil.
    When lukewarm cut a slit halfway through the graffe and and fill them with a generous amount of ricotta cream.
    Dust some icing sugar on the top and serve