Grilled Eggplant and Mozzarella Panini
Grilled Eggplant and Mozzarella Panini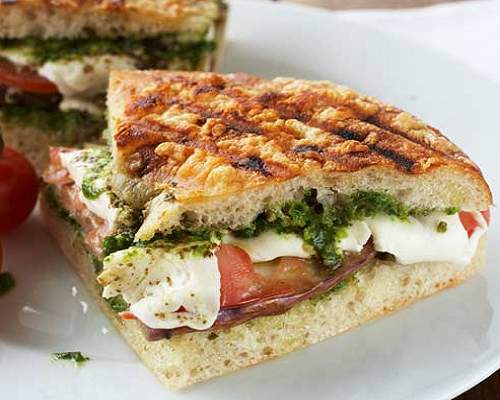 Ingredients
Makes 4 servings
    2 small eggplants, about 1⁄2 pound each

    Kosher or sea salt

    2 tablespoons extra virgin olive oil

    1⁄2 cup pesto

    4 pieces thick focaccia, halved horizontally, 8 pieces thin focaccia, each roughly 3 by 6 inches or equivalent

    8 to 12 thin tomato slices

    6 ounces fresh whole-milk mozzarella cheese, thinly sliced
Procedure
How many ways can you put eggplant, tomato, and mozzarella together? Dozens, certainly. Here, they meet in a panino, or Italian sandwich. The sliced eggplant is grilled first, then layered with the other ingredients between two pieces of pestobrushed focaccia. After another brief trip to the grill to crisp the bread and melt the mozzarella, the hot panini are ready to slice and savor.

Slice off the eggplants' green cap, then cut each eggplant lengthwise into slices 3/16 inch thick. Discard the first and last slices, which are mostly skin. Sprinkle the remaining slices generously on both sides with salt. Place them on a rack and let stand for 30 minutes. Moisture will bead on the surface.

Prepare a moderate charcoal fire or preheat a gas grill to medium (375°F). Pat the eggplant slices dry with paper towels, then brush on both sides with 1 tablespoon of the olive oil. Place the slices directly over the coals or gas flame and cook, turning once, until just tender, about 3 minutes on per side. Remove from the grill.

Spread 1 tablespoon pesto on one side of each focaccia piece-on the cut side if you have halved the focaccia, or on the bottom side if you have not. Layer the grilled eggplant slices, overlapping them slightly, on 4 of the pestotopped slices. Top the eggplant with the tomato slices, then with mozzarella, dividing them both evenly. Place another piece of focaccia, pesto side down, on the sandwich.

Brush the sandwiches with the remaining 1 tablespoon olive oil on both sides. Place the sandwiches directly over the coals or gas flame and cook, turning once, until they are hot throughout, the focaccia is nicely toasted, and the mozzarella is molten, about 3 minutes per side, depending on the heat of the fire. Cut in half and serve immediately.
By Eating Local: Reprinted with permission of Andrews McMeel Publishing, recipes by Janet Fletcher, photography by Sara Remington
https://www.surlatable.com/grilled-eggplant-and-mozzarella-panini/REC-163478.html?cgid=WRC-429203&start=187