Roman Bucatini all'Amatriciana Recipe
Roman Bucatini all'Amatriciana Recipe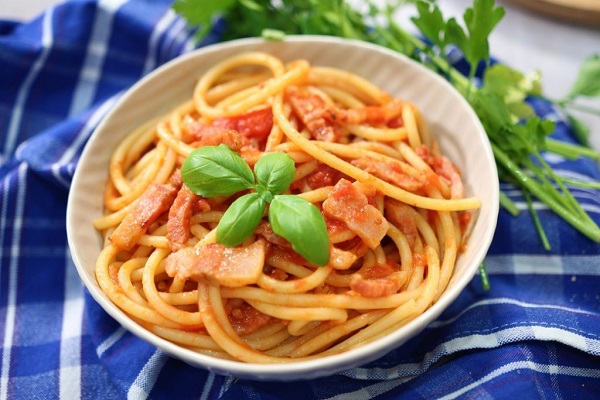 Sugo all'amatriciana  or alla matriciana (in Romanesco dialect) is a traditional Italian pasta sauce based on guanciale (cured pork cheek), pecorino cheese, and tomato. Originating from the town of Amatrice (in the mountainous Province of Rieti of Lazio region), the Amatriciana is one of the best known pasta sauces in Roman and Italian cuisine. The sauce has been declared as Lazio's Prodotto agroalimentare tradizionale.
Ingredients
    1 lb. Bucatini
    28 oz. Peeled Whole Tomatoes like Mutti
    7 oz. Guanciale or Pancetta or Bacon
    1 Tbsp. Hot Pepper Flakes
    1/2 cup White wine I use Chardonnay
    Pecorino cheese grated for topping
Instructions
    To prepare, thinly slice the guanciale and then cut into 1/2 inch strips. Bring a pot of salted water to a boil to be used to cook the pasta in a later step.
    In the meantime, add a drizzle of olive oil into a sauté pan and warm up over a medium/high flame. Add in the guanciale and fry until crispy, making sure to mix so that it is evenly cooked.
    Lower the flame and pour in the wine. Stir for about two minutes, allowing the alcohol to evaporate.
    Add in the hot pepper flakes. You can add extra if you want the sauce to be more spicy, or less if you don't really like it too spicy. Pour in the peeled whole tomatoes and stir over a medium flame for about ten minutes. As you stir, use a wooden spoon to break the tomatoes apart.
    After ten minutes of cooking the sauce, add the bucatini into the pot of boiling water and cook as per the package instructions. Continue cooking the sauce while the pasta is cooking.
    Drain the bucatini and add it into the amatriciana sauce pan. Mix together and serve with a sprinkle of freshly grated pecorino cheese, topped off with a few basil leaves. Salute and cin cin!