Grilled Eggplant and Wild Mushroom Salad
Grilled Eggplant and Wild Mushroom Salad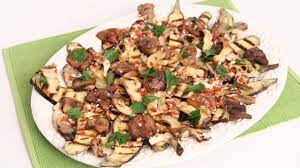 Ingredients
Serves 4
    5 Small Eggplants or 1 Large Eggplant, thinly sliced
    About 8oz of Mixed Wild Mushrooms
    2 Cloves of Garlic, minced
    1 Red Chili, de-seeded and finely chopped
    3 Tbsp of Extra Virgin OIive Oil plus a bit more
    About 2 Tbsp of Red Wine Vinegar
    1/2 tsp of Granulated Sugar
    Fresh Parsley
Preparation
    1) Preheat a grill pan to medium heat. Brush a little oil on both sides of the slices of the eggplant and grill until they develop some grill marks on both sides, about 3 minutes.
    2) Leave the mushrooms in large pieces and toss them lightly in some olive oil, grill them for a few minutes or until the develop good color.
    3) Arrange the grilled eggplant and mushrooms on a platter and season with salt and pepper.
    4) In a small bowl, whisk together the vinegar, oil, sugar, chili, salt and pepper.
    5) Drizzle the dressing all over the grilled veggies and sprinkle over some parsley. Allow the salad to sit for about 30 minutes at room temperature before serving.