Zeppole di San Giuseppe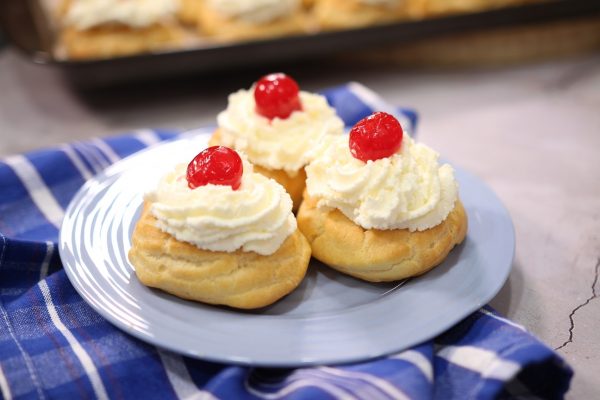 These oven baked zeppole di San Giuseppe are a delicious pastry to share with family on St. Joseph's Day and Father's Day. Typically these are fried, but oven baked works just as well.
Ingredients
Zeppole Ingredients
    4 oz. Butter unsalted
    1 cup Water
    8 oz. All Purpose Flour
    4 Eggs
    1/2 tsp. Salt
Topping Ingredients
    8 oz. Mascarpone Cheese
    2 cups Heavy Whipping Cream
    Maraschino Cherries
Instructions
    Pour the water into a medium size pot and bring to a boil over medium heat. Then add in a pinch of salt and the butter. Mix until the butter has melted.
    After lowering the flame to medium/low, slowly add in the flour and continuously whisk until combined. Mix using a wooden spoon for about two more minutes until fully combined, thickened and smooth. Remove from stove top and set aside to cool off.
    Preheat oven to 400°F and place rack in middle position.
    Once cooled off, add the eggs one at a time into the dough and mix together using a wooden spoon. Make sure that each egg is fully incorporated into the dough before adding the next egg. Mix until the dough is thickened and smooth, like a thick cream, for about 5 minutes.
    Once completely mixed, scoop into a pastry bag with a star tip. Line a baking sheet with parchment paper and then squeeze out the zeppole in a circular motion, leaving an empty hole in the center.
    Place the zeppole into the oven and bake for 25 minutes. At 25 minutes, check to see if they are lightly brown and if not, bake for another 5 to 10 minutes.
    Remove from the oven and let cool.
    Once the zeppole have cooled, add the heavy cream into a mixing bowl. Using a hand mixer with a whisk attachment, whisk on a medium speed until the heavy cream has turned into whipped cream. Do not whisk too long or it will turn to butter.
    Add in the mascarpone cheese and lightly fold into itself using a wooden spoon until fully combined.
    Scoop the cream topping into a pastry bag with a tip and squeeze the cream mixture on top of each zeppole. Add a Maraschino cherry on top of each and enjoy!