Calamari Salad with Roasted Potatoes and Lemon-Shallot Vinaigrette
Calamari Salad with Roasted Potatoes and Lemon-Shallot Vinaigrette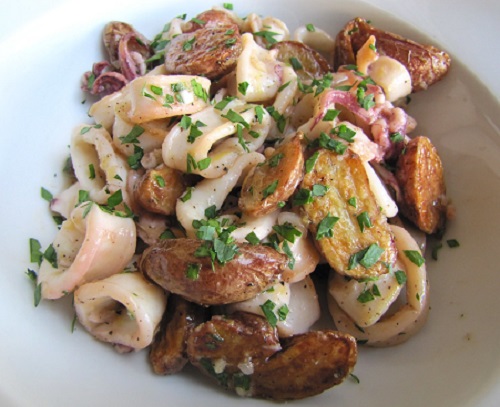 Ingredients
1/2 lb cleaned Calamari, sliced into rings (except tentacles)
1/4 lb baby fingerling or red potatoes, halved or quartered to about 1-inch pieces
1 small shallot, minced
juice and zest of half a lemon
5 tablespoons extra-virgin olive oil
Handful fresh parsley, chopped, for garnish
1/4 teaspoon coarsely ground black pepper
Salt and pepper
Directions
Preheat oven to 400 degrees. Season the squid in a bowl with about 1 tablespoon olive oil, and a generous pinch each salt and pepper. Toss the potatoes in another 1-2 tablespoons olive oil, and a generous pinch of salt and pepper and place flat side-down on a tray. Roast for about 6 minutes before checking and flipping to see if they've browned on the bottom. Depending on size of potatoes, cook another couple minutes, or until decently browned and tender. Remove and let cool.
Heat a heavy-bottomed or cast-iron pan or griddle over a high flame. Once very hot, add the Calamari in a single layer, so that each piece gets surface space. Don't move for about 30 seconds to a minute. Afterward, flip and let cook about another minute, or until the Calamari is no longer translucent in any parts. Remove immediately from pan and let cool.
Whisk the lemon juice, zest, shallot, coarsely ground pepper and a pinch of salt in a bowl, and drizzle in about 2 tablespoons of olive oil while whisking until emulsified. Toss with the Calamari and potatoes, and finish with a generous garnish of fresh parsley.