Chicken & Artichoke Cannelloni
Chicken & Artichoke Cannelloni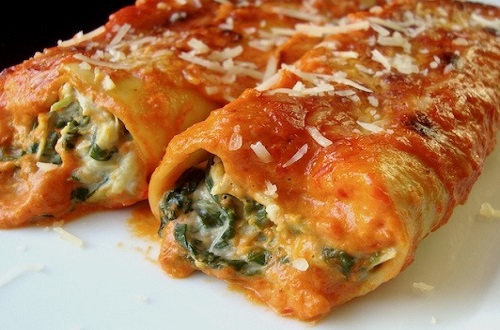 Ingredients
1 tsp olive oil
1/4 cup chopped onion
2 cloves garlic
3 oz frozen spinach, thawed
2 oz cooked chicken breast, chopped (1/2 cup)
3 artichoke hearts, drained and chopped
2 tbsp chopped fresh parsley
4 oz cottage cheese
1 egg white
1 oz grated pecorino romano cheese
salt & freshly ground pepper
6 egg roll wrappers (found in the refrigerator section near produce)
1 cup tomato basil pasta sauce
1/2 tsp crushed red pepper
Directions
Preheat oven to 350ºF. In a small skillet over medium heat, warm the olive oil. Add onion and cook for about 5 minutes, until softened. Add the garlic and cook 1 minute more, then transfer to a medium sized bowl.
Squeeze excess water from the spinach and add to the onions, along with the chopped chicken and artichokes and the parsley. Stir together the cottage cheese, egg white, and pecorino, and combine with the chicken mixture. Season with salt and pepper.
Spread a thin layer of sauce in a baking dish. Working with 1 wrapper at a time, place a scoop of the filling near one of the shorter edges, leaving a little space at the end. Spread the filling along the length of the short edge, and gently roll the wrapper around the filling. Carefully place in the baking dish. Repeat with remaining egg roll wrappers and filling.
Spoon the rest of the sauce over the cannelloni in the baking dish, cover with foil, and bake for about 25 minutes, until hot and bubbly. Let rest for a few minutes before serving.