Grilled Haddock with Eggplant, Zucchini and Tomatoes
Grilled Haddock with Eggplant, Zucchini and Tomatoes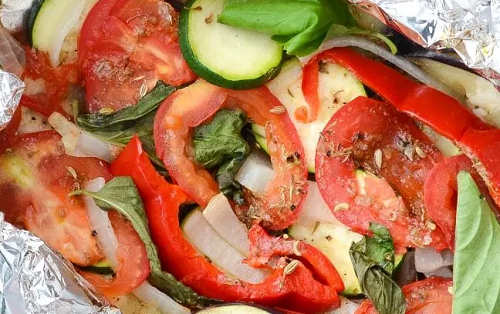 Ingredients:
Yield: 2 servings
1 large zucchini, diced

1 small to medium eggplant, diced

1 Red pepper sliced

olive oil

sea salt & freshly ground black pepper

crushed red pepper

2 filets of haddock

1 medium tomato, thinly sliced

balsamic vinegar

fresh basil, thinly sliced
Directions:
Preheat grill to medium-high heat.

Tear off two large rectangles of foil and mist with cooking spray. Pile half of the chopped zucchini and eggplant in the center of each foil packet. Drizzle with a bit of olive oil and sprinkle with a pinch of salt. Toss to coat.

Place fish on top of the vegetables and season with salt, pepper and crushed red pepper. Lay tomato slices and red pepper on top of fish and finish each with a splash of balsamic vinegar. Seal the foil packets (you can fold up the piece of foil if its large enough, or tear another piece, lay on top and crimp the edges with the bottom piece.)

Transfer packets to grill and cook for 20 minutes, until vegetables are tender and fish flakes easily.

Sprinkle with basil just before serving.