Pasta Primavera con Polpette
Pasta Primavera con Polpette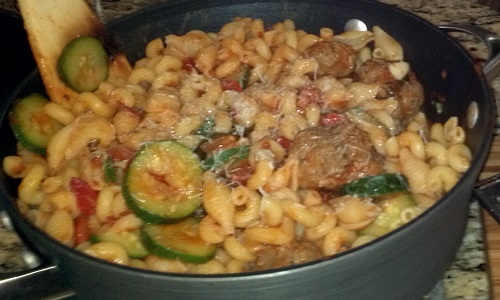 Ingredients
Yield: 4 servings
   1/2 pound cellentani pasta (Barilla)

    3 teaspoons olive oil

    4 garlic cloves

    6 whole basil leaves

    1/2 sweet onion

    8 ounce crushed tomatoes (San Marzano)

    12 cherry tomatoes

    1 zucchini (medium size)

    1/2 pound ground beef

    teaspoon salt

    teaspoon pepper

    2 bay leaves

    teaspoon milk

    teaspoon Italian breadcrumbs

    1/4 cup Reggiano Parmigiano
Directions
   Chop 1 clove of garlic, 2 basil leaves, 1/4 of onion for polpette.

    Prepare polpette in a bowl by mixing ground beef with chopped garlic, onion, basil and add pinch of salt and pepper, teaspoon of milk and breadcrumbs (when I have the time I make my own but you can use pre-made) and mix together with hands.

    Create little "meat balls" but press down to create more oval shape and place on cooking tray and into pre-heated oven for 30 minutes at 400 degrees.

    Chop remaining garlic, basil, and onion while slicing cherry tomatoes in halves and zucchini into thin slices.

    Begin to make primavera sauce in a large pan with olive oil, remaining chopped garlic and onion.

    Prepare pasta pot and add pinch of salt to water.

    Once garlic and onions begin to melt into the oil, add crushed tomatoes, cherry tomatoes, bay leaves and chopped basil, salt and pepper, and cook sauce at a low heat.

    After 15 minutes, add cooked polpette into the sauce and stir gently.

    When pot of water is boiling and cellentani (you can also use a variety of short pasta if you'd prefer).

    After 4 minutes of boiling water, add zucchini to pot of pasta and stir. Continue to stir until 10-11 minutes when pasta is "al dente".

    Strain pot of pasta and zucchini and move to sauce.

    Stir all ingredients together and add grate Reggiano Parmigiano generously over pasta.