Grilled Pork-Stuffed Peppers with Cheese and Bacon
Grilled Pork-Stuffed Peppers with Cheese and Bacon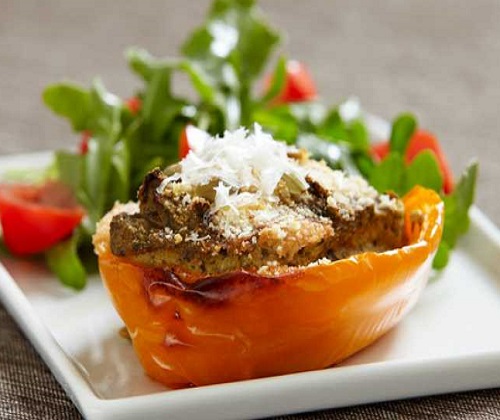 Are you looking for a new barbecue recipe to delight your friends? Try this delicious grilled stuffed peppers recipe and taste the flavor of summer!
If you are looking for a delicious grilled main dish, we propose you this simple grilled bell peppers recipe. Peppers are perfect to be cooked on the grill and you can use many ingredients to fill them: cheeses, ham, other vegetables and also various types of meat. There are many ways to use peppers and with the right ingredients you can make a quick main dish for a summer outdoor grill with your friends.
Are you ready? Let's see the steps to do it!
Instructions
Cut the peppers in half vertically and remove the seeds.
Fill the peppers with the pulled pork meat and season with bbq sauce.
Add diced olives.
Add a slice of Cheddar cheese on every pepper and seal with two slices of bacon crossed over.
Season with salt and extra-virgin olive oil.
Preheat a clean and oiled grill and cook the peppers for 30-40 minutes.
Our tip
Some prefer to boil the peppers for a few minutes before grilling them. Obviously if you are a real barbecue master rely on the grill of your bbq.