WARM OLIVES AL LIMONE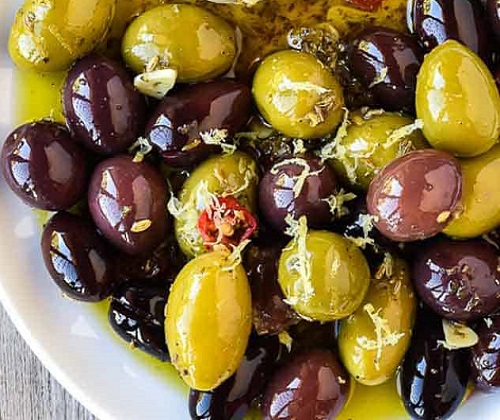 Serves: several as an appetizer
Prep: 10 minutes
Cook: 20 minutes
3 1/2 c. mixed olives
Some of my favorites are: Castelvetrano, Cerignola: green or black, Kalamata, Gaeta, Nicoise. A mix of these is heaven.
1/3 c. Extra Virgin Olive Oil (This is the time to get out the good stuff!)
Zest of a fresh lemon – also make a few thin strips from the lemon zest – they are pretty.
1 good "squeeze" from a fresh lemon
1/4 tsp. Red Pepper Flakes
1 1/2 Tbsp. Fresh Rosemary
1 Tbsp.Fresh Thyme or Lemon Thyme
1 Fresh garlic clove chopped finely or minced (please do not use the stuff from the jar)
Instructions:
Toss your olives with the oil, lemon zest, red pepper, herbs, and garlic. lay them out on a large piece of foil on a baking sheet. Place another piece of foil over the top and tent the olives – seal tightly at the edges.
Bake at 400 degrees for 20 minutes. Serve warm with crusty bread for dunking.