Handmade gramigna with sausage
Handmade gramigna with sausage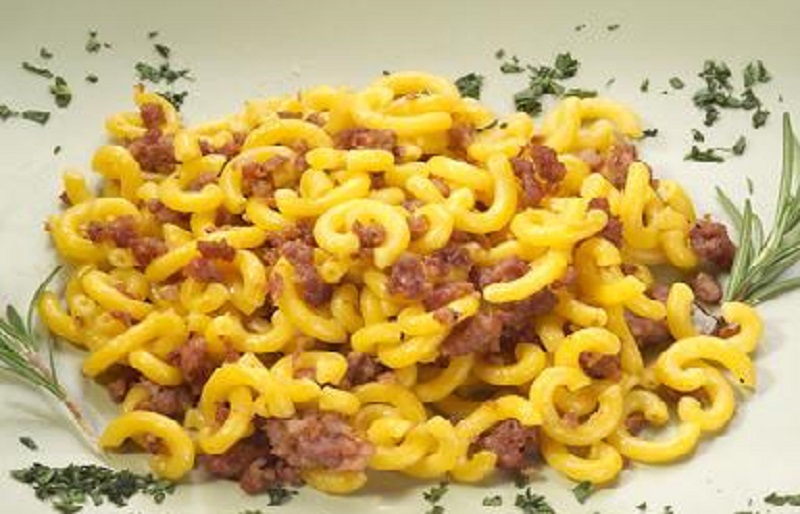 Ingredients
For 2 servings
Quantities for the pasta:
75 grams (1/2 cup) semola di grano duro rimacinata (semolina flour)

75 grams (1/2 cup) Italian 00 flour

1 egg

1 tsp olive oil

water as needed
Quantities for the meat sauce
80 ml (1/3 cup) dry white wine

2 sweet Italian pork sausages, about 170 grams (6 oz)

1 golden Parma onion, chopped

a little stock

butter

oil

a little Cervia salt

ground pepper

freshly grated parmigiano reggiano

salt
Preparation method:
For the pasta
Place all the ingredients in a large bowl and mix to obtain a rough pasta, similar in texture to a mimosa.

Wrap the dough in cling film and allow to rest for half an hour.

After it has rested Force the pasta through a hand-cranked pasta press (called torchio) fitted with a bronze die-plate cutter for gramigna pasta.

Cut the pasta after a couple of curls.
For the meat sauce
Put a little butter and oil in a pan and fry the chopped onion lightly. When the onion is golden brown, add the sausage, previously skinned and roughly chopped.

When it begins to change colour and turn crisp on the outside, add the wine and leave to evaporate.

Lower the heat, add a little stock and cook for at least 1 hour.

For an even smoother meat sauce, add a glass of fresh milk when the wine has evaporated.

Cook the pasta in plenty of boiling salted water and then toss in the pan with the sausage sauce and two large handfuls of freshly grated Parmesan cheese. Serve.