Apple, mascarpone and cinnamon cake
Apple, mascarpone and cinnamon cake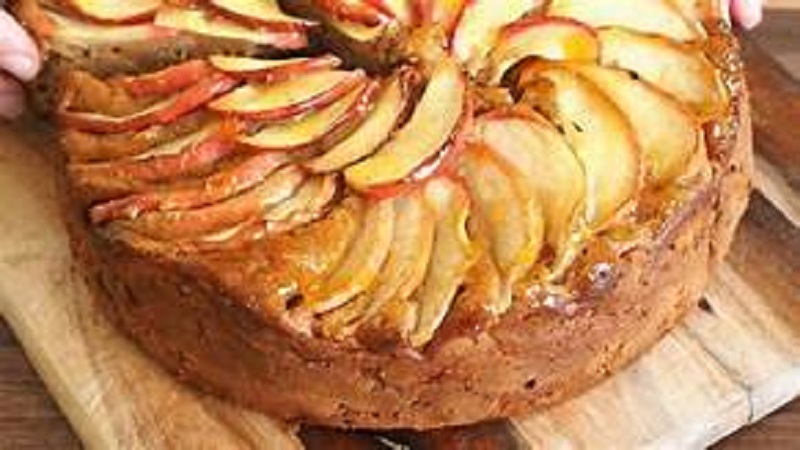 The mascarpone gives the cake a creamy density and moistness and a beautiful zest when mixed with the lemon.
Ingredients
4 red apples

finely grated zest and juice of 1 lemon

3 eggs, at room temperature

120 g ( 4oz ) rapadura (panela) sugar

250 g  ( 9oz ) mascarpone

1 tsp vanilla paste or extract or the seeds of 1 vanilla bean

200 g ( 7oz )"00" or plain flour

1 tbsp ground cinnamon

16 g ( .6oz) baking powder

small pinch of salt

2-3 tbsp apricot jam, melted
Cook's notes
Oven temperatures are for conventional; if using fan-forced (convection), reduce the temperature by 20˚C. | We use Australian tablespoons and cups: 1 teaspoon equals 5 ml; 1 tablespoon equals 20 ml; 1 cup equals 250 ml. | All herbs are fresh (unless specified) and cups are lightly packed. | All vegetables are medium size and peeled, unless specified. | All eggs are 55-60 g, unless specified.
Instructions
Cooling time: 20 minutes
1. Preheat the oven to 180°C. Grease a 20 cm springform tin, then line the base and sides with baking paper.
2. Peel and finely chop 2 of the apples, then cut the remaining apples into thin wedges, keeping the skin on. Place the sliced apples in a bowl of cold water with half the lemon juice to prevent them from browning.
3. Beat the eggs and sugar in the bowl of an electric mixer until pale and fluffy. Add the mascarpone and mix until smooth, then add the lemon zest, remaining lemon juice and the vanilla. Whisk to combine until smooth. Sift in the flour, cinnamon, baking powder and salt and gently incorporate. And the chopped apples and mix well.
4. Spoon the batter into the tin, then arrange the apple wedges over the top in a concentric circle with the edges slightly overlapping. Bake for 40-50 minutes or until a skewer withdraws clean. Remove from the oven and brush the top with apricot jam. Cool in the tin for 20 minutes, then gently release the sides and let the cake cool completely on a wire rack.
Silvia Colloca shares her Italian family secrets in the brand-new series, Cook like an Italian.