Pasta mista with potatoes, pancetta and provola
Pasta mista with potatoes, pancetta and provola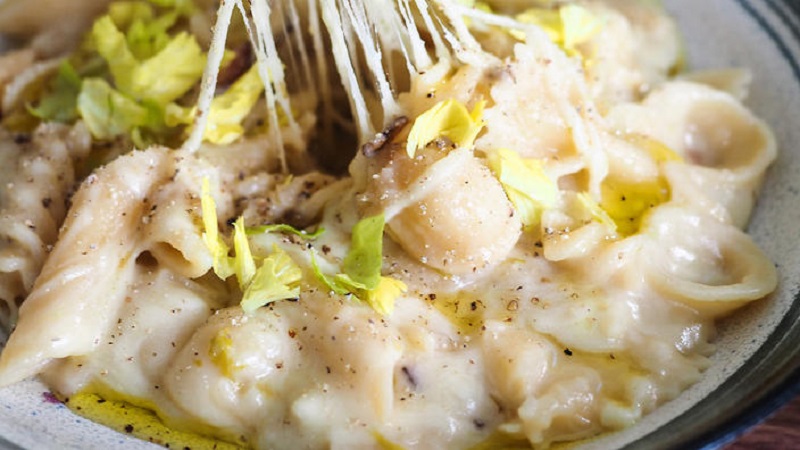 'Pasta mista' means mixed pasta and involves using the leftover bits of pasta from various packets, resulting in a variety of shapes and sizes, stirred through this cheesy sauce.
Ingredients
Serves 4
Preparation
10
min
60 ml (¼ cup) extra-virgin olive oil, plus extra to serve

1 large French shallot or small brown onion, finely chopped

80 g (3oz) pancetta, thinly sliced

1 small celery stalk, thinly sliced (reserve some of the green leaves for later)

400 g (14oz) potatoes, peeled and cut into small cubes

salt and freshly ground black pepper, to taste

1 small piece parmesan rind (optional)

400 g (14oz)  pasta mista (left over from various packets with roughly the same cooking time)

100 g (3.5oz) provola, cubed

freshly grated parmesan, to serve
Instructions
 Fill the kettle and bring to the boil.

 Heat the oil in a saucepan over medium heat.

Add the shallot, pancetta and celery and cook until the pancetta starts to brown and the shallot is translucent.

Add the potato and parmesan rind, then pour over just enough boiling water to cover them.

Season to taste, then simmer for 5-6 minutes or until the potatoes are soft.

 Add the pasta and enough boiling water to cover it by 4 cm. Stir gently and cook for 8-9 minutes or until the pasta is al dente.

Remove and discard the parmesan rind, turn off the heat, the add the provola and stir to melt it with the residual heat.

Serve in bowls topped with a drizzle of extra oil, a little freshly ground pepper and grated parmesan and the reserved celery leaves.
Silvia Colloca shares her Italian family secrets in the brand-new series,

Cook like an Italian

.