Italian Cabbage Soup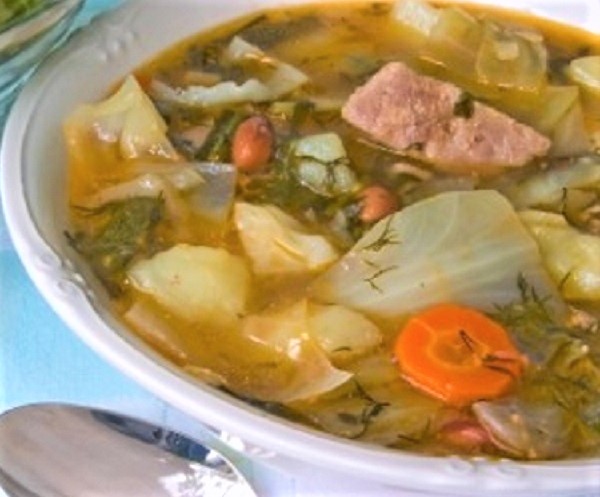 The combination of the pancetta, smoked pork butt and cabbage makes a great tasting soup. The beans will thicken the soup slightly and the addition the thyme or even basil will give it a great flavor you won't forget.
Recipe By
http://www.great-chicago-italian-recipes.com
Serves 4 to 6 people
INGREDIENTS
3/4 stick of butter
1/4 cup of extra virgin olive oil
3 slices of pancetta, chopped
1 yellow onion, sliced
2 stalks of celery, sliced
2 carrots, peeled and sliced into circles
1 large white potato, diced
2 cloves of garlic, chopped
4 1/4in. slices of cooked smoked pork butt
3 cups of Savoy or green cabbage, shredded
1/4 cup of flat leaf Italian parsley
2 sprigs of fresh thyme
1 15oz cans of cannellini beans, drained and rinsed
4 cups of chicken broth
1/2 tsp of salt
1 tsp of fresh ground black pepper
1 pound of ditali pasta (optional)
1/2 cup of fresh grated parmesan cheesePREPARATION

In a large pot heat the butter an the oil.
Add the pancetta, onions, celery, carrots, potato and garlic and cook for 3 minutes.
Add the pork butt and cook for 1 minute longer.
Stir in the cabbage, parsley and thyme with 1 cup of chicken broth.
Cover and cook until cabbage is slightly wilted.
Add the beans and remaining broth.
Season with salt and pepper and bring to a boil.
Lower the heat and simmer covered for about 1 hour.
In a large pot of salted boiling water, cook the pasta until al dente. Around 5 to 10 minutes.
Drain the pasta and place in individual bowls.
Top the pasta with the soup and serve with parmesan cheese.