Neapolitan Chicken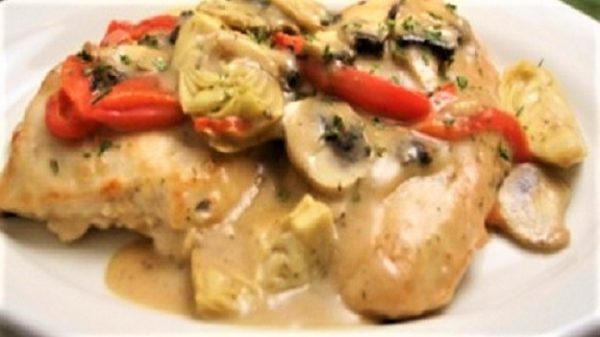 This delicious recipe, made with artichoke hearts, sun dried tomatoes, leeks and mushrooms, is quite unique and simple to make.  this combination of vegetables and tender, juicy chicken will give you a satisfying feeling with every bite.
Neapolitan chicken is great for family gatherings or dinner with that special guest.
INGREDIENTS
1 whole chicken cut into sections or 2 legs, 2 wings, 2 thighs and 2 breasts
1 8 oz jar of artichoke hearts drained
1/2 cup of sun dried tomatoes chopped
3/4 cup of sliced portabella mushrooms
1 leek cleaned and sliced
3 cloves of garlic chopped
1/4 tsp of dried basil
1/4 tsp of dried oregano
1/4 tsp salt
1/4 tsp black pepper
1/8 of a cup of extra virgin oil
1 cup of chicken broth
3 Tbls of corn starch
3Tbls of water


PREPARATION
Wash chicken and dry.
Season chicken with salt and pepper
In a large skillet or two add around 2 Tbls. of oil and brown chicken on both sides.
Remove chicken from skillet and set aside.
Add remaining oil and sauté leeks and garlic for 3 minutes.
Add sun dried tomatoes, mushrooms and artichokes for another 2 minutes.
Place the chicken back in the skillet.
Sprinkle basil and oregano all over the chicken.
Add broth and cook covered for about 30 minutes.
In a separate bowl mix cornstarch and water and slowly add to chicken
Cover and cook another 10 to 15 minutes until chicken in thoroughly cooked 
Plate the chicken on a serving dish and pour over sauce with vegetables.
recipe from http://www.great-chicago-italian-recipes.com