Italian NUN – On "The Voice" in Italy – PRICELESS REACTIONS
Italian NUN 
On "The Voice" in Italy 
PRICELESS REACTIONS
*
Sister Cristina Scuccia (also known as Suor Cristina, Italian for "Sister Christina") is an Italian Ursuline nun who won the 2014 season of The Voice of Italy as part of Team J-Ax, resulting in a record deal with Universal. In 2013, she won a Christian music competition as part of the Good News Festival.
In 2014, Sister Cristina Scuccia applied to The Voice of Italy singing competition, singing for her audition "No One" by Alicia Keys. The performance received more than 95 million views on YouTube. She was very popular with the audience and all four judges—Raffaella Carrà, J-Ax, Noemi, and Piero Pelù—turned their chairs in the blind audition. Cristina chose to be part of Team J-Ax.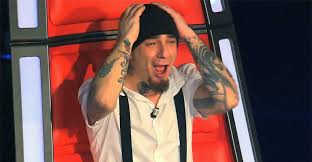 Throughout the contest, she wore a simple crucifix around her neck, black shoes and ankle-length black religious habit. During the show, she sang "The Cup of Life" alongside Ricky Martin and during the final, she sang a duet with Kylie Minogue on "Can't Get You Out of My Head". In the final, she won the trophy with 62% of the Italian votes against runner-up Giacomo Voli. After winning, she thanked God and recited the Lord's Prayer to the show organizers and audience.
*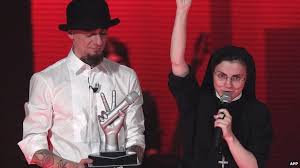 Cristina Scuccia was born in Vittoria in 1988. She became a novice in 2009 and worked for two years with poor children in Brazil before formally joining the Ursuline order. In the years from 2009 to 2011, Sister Cristina improved her artistic skills at the "Star Rose Academy" in Rome, created and directed by Maximo De Marco. Her singing teacher was the singer-songwriter Franco Simone. Her television debut was in June 2012, on the program "Dizionario dei sentimenti" by Franco Simone, on Gold Tv in Rome.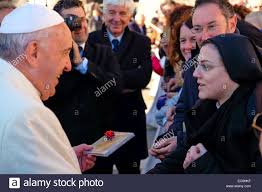 *
*
Then Join Dominic and Frank on Facebook at Everybody Loves Italian where we forever celebrate Life, Love and the Italian Experience. 
*
Visit us on the web at www.dev.everybodylovesitalian.com