Italian Orzo Spinach Soup
Italian Orzo Spinach Soup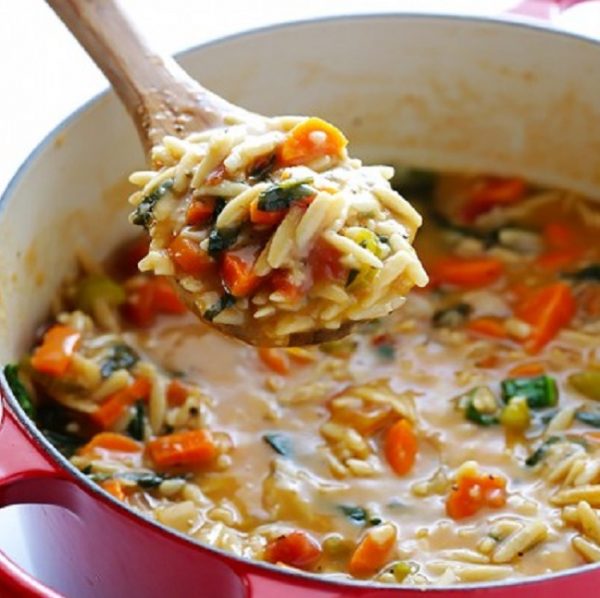 Orzo Spinach Soup is very easy to make and tastes great and extremely tasty.  This soup is great for a cold day and would go well with some crusty Italian bread.  The next time you are in the mood for some soup, try this Italian Orzo Spinach Soup.
Italian Orzo Spinach Soup
This delicious Italian Orzo Spinach Soup is simple, flavorful, and so comforting.
Ingredients:
2 tablespoons olive oil
1 small white onion, peeled and diced
1 cup diced carrots
1 cup diced celery
3 cloves garlic, peeled and minced
6 cups chicken or vegetable stock
1 (14-ounce) can fire-roasted diced tomatoes
1 1/2 cups (about 8 ounces) DeLallo whole wheat orzo pasta, or other whole wheat pasta
1/2 teaspoon dried thyme
1/4 teaspoon dried oregano
1/4 teaspoon dried rosemary
4 cups loosely-packed spinach
salt and black pepper
Directions:
Heat oil in a large stockpot over medium-high heat. Add onion and saute for 4 minutes, until soft. Add carrots, celery and garlic and saute for an additional 3 minutes. Add chicken stock, tomatoes, orzo (pasta), thyme, oregano, rosemary and stir to combine. (Everybody Loves Italian)Bring soup to a simmer, stirring occasionally. Reduce heat to medium-low and simmer for 10 minutes, stirring occasionally, until the pasta is al dente.
Stir in the spinach and cook for 1-2 minutes until it is bright green and wilted. Season with salt and black pepper to taste (if needed). Serve warm.