Kale, White Bean and Spicy Italian Chicken Sausage
Kale, White Bean and Spicy Italian Chicken Sausage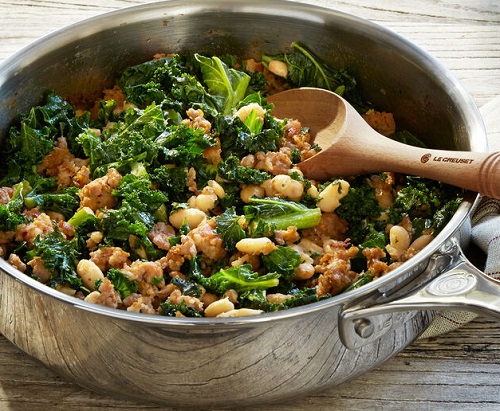 Serves
Makes 4 to 6 servings
Ingredients
2 tablespoons olive oil

12 ounces spicy Italian chicken sausage

1 clove garlic, minced

1 shallot, finely chopped

1 can white beans, drained

6 cups kale, roughly chopped

Grated Parmesan to taste
Procedure
Heat the sauté pan over medium-high heat. Add oil and sausage. Brown the sausage and break up large chunks with a spoon or spatula. Remove meat from the pan and set aside.
Add garlic and shallot to the pan. Sauté in sausage renderings until fragrant and translucent. Add white beans and stir to combine.
Add kale in batches, about 2 cups at a time. Sauté until it becomes wilted and glossy. Return the sausage to the pan and stir to combine. Serve warm with grated Parmesan.