Pan-Seared Sole with Lemon and Capers
Pan-Seared Sole with Lemon and Capers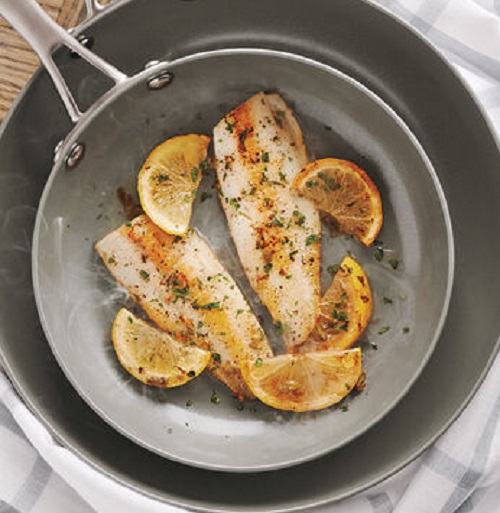 Serves
Makes 4 servings
Ingredients
4 (5 to 6 ounce) sole fillets, skinned and pin bones removed

Kosher salt and freshly ground black pepper

1 tablespoon extra-virgin olive oil

1 tablespoon canola oil

3 tablespoons unsalted butter, divided

3 tablespoons capers, rinsed, drained, and roughly chopped

3 tablespoons freshly squeezed lemon juice

¼ cup white wine

¼ cup roughly chopped fresh flat-leaf parsley
Procedure
Capers are the flower buds of a bush native to the Mediterranean and parts of Asia. The small buds are picked, sun-dried, and then pickled in a vinegar brine. This lemon-caper butter sauce is simple to make and delicious on most seafood varieties.
To prepare sole: season fillets generously on both sides with salt and pepper. In a large nonstick skillet, heat oils over medium-high heat until almost smoking. Sear sole on both sides until lightly browned, about 2 to 3 minutes per side, flipping once with a fish spatula. Remove sole from skillet and place on a large plate. Tent with foil to keep warm.
Pour off all but 1 tablespoon oil from skillet. Add 2 tablespoons butter and cook, stirring to release any browned bits on the bottom of the pan, until butter turns golden brown and smells nutty, about 2 to 3 minutes. Add capers, lemon juice, and white wine and cook, stirring constantly, for 2 to 3 minutes longer. Whisk in remaining 1 tablespoon butter, remove skillet from heat, and stir in chopped parsley. Taste and season with salt and pepper.
To serve: place each sole fillet on a warmed dinner plate and divide lemon-caper butter between them. Serve immediately.