Lamb Chops with Peppers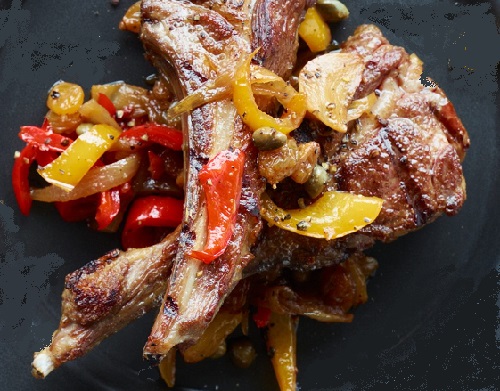 INGREDIENTS
12 loin lamb chops, cut 1 inch thick

1 small green bell pepper, sliced

1 small red bell pepper, sliced

1 small yellow pepper, sliced

1 large yellow onion, sliced

2 cloves of garlic, chopped

2 bay leaves

1 tsp of dried oregano

2 Tbls of extra virgin olive oil

1/4 cup of fresh parsley, chopped

1/2 tsp of dried mint

1/4 tsp of fresh ground black pepper

1/4 tsp of salt

PREPARATION

Season chops with salt and pepper

Place the chops on a broiler pan.

Broil on both sides about 10 to 13 minutes.

Meanwhile, in a large skillet, sauté the garlic, peppers and onions in the olive oil.

Add the bay leaves and oregano and cook until peppers and onions are tender, about 10 to 12 minutes.

Discard bay leaves.

Plate the chops and topped with the peppers

Garnish with parsley. Serves 4 people.