Lemon Mascarpone (Roulade) Involtino – Excellent Recipe
Lemon Mascarpone Involtino
(Roulade)
Wonderful Recipe
Prep time: 
Cook time: 
Total time: 
Serves: 6 servings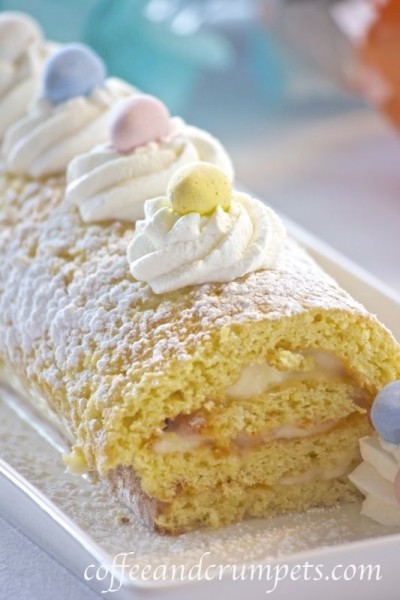 Ingredients
½ cup/72g all purpose/plain flour

⅓ cup/75g sugar
2 tablespoons/9g ground almonds
3 eggs
½ cup/125g mascarpone cheese
½ cup/160g lemon curd ( I used good quality store bought)
powdered sugar for sprinkling
whipped cream for decoration and serving

chocolate eggs to decorate
Instructions
Preheat oven to 400℉/200.
Grease and line a jelly roll pan approximately 9″x13″ (mine was a little smaller) with parchment paper and grease the paper as well.

Using a double boiler and a hand mixer, beat the eggs with the sugar until thick and foamy in heatproof bowl over the simmering water.

Gently, fold in the flour and ground almonds.

Pour into the prepared baking pan and level the top.

Place in the centre of the oven and bake for 10-15 minutes, until the cake is golden and springy to the touch.
While the cake is baking, take a clean tea towel and lay on the table or counter, and sprinkle liberally with powdered sugar

As soon as the cake is done, tip the cake carefully onto the tea towel and gently lift off the pan and peel off the parchment paper.

Slowly, roll up the cake from the short size and let cool completely.

While the cake is cooling, mix the lemon curd and mascarpone together into a spreadable filling.

Once the cake is cool to the touch, unroll the cake gently.
Spread the cake with the lemon mascarpone filling, leaving a border all around the edges, and roll up the cake carefully.

Using a serrated knife, cut the crisp edges off each end of the cake.

Place the cake, seam down onto a serving plate and dust with more powdered sugar.
Pipe whipped cream rosettes on top if desired and decorate with chocolate eggs.
Notes
The equal amounts of curd and mascarpone worked well for us. If you want to change the ratio to more tart or more sweet, you can change the quantities. If you use whipped cream, that also cuts down on the tartness. Depending on your preference, you can change the filling ratio.