Easter Leg of Lamb Traditional Italian Recipe
Traditional Italian Easter
LEG OF LAMB
*
Throughout the world the most popular Easter symbol is the lamb. The reference to lamb in Christianity goes back to the book of Genesis.
In the 9 th century the pope adopted roasted lamb as the feature of Easter Dinner, and has been ever since.
This is a very special recipe traditionally whipped out at Easter, but one which works for any big family gathering.
The milk-fed lamb has a more succulent tender meat and a pearly white to pink color.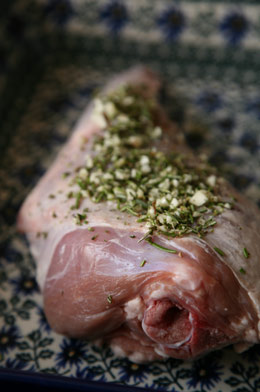 Ingredients
Leg of lamb – 1kg/2½lb

Rosemary – 1 sprig
Sage – 4 leaves
Garlic – 1 clove
Potatoes – 800g/1 ¼ lb
Olive oil with garlic – 5 tb.spoons
Carrots – 500g/1lb 2 oz
Shallots – 400g/14oz
Flat leaf parsley – 1 spring
Salt and pepper
Process
Preheat the oven to 180oC/350oC/GM4. Finely chop the rosemary, sage and garlic.
Lay the leg in a large roasting tin, season with salt and pepper and rub in the herbs and garlic.
Next pour over the garlic oil.
Pop this into the oven and roast for an hour, basting from time to time.
Peel the potatoes, carrots and shallots.
Parboil them all in separate pots then drain and pop them in with the lamb with about 30 minutes to go.
When the meat is cooked through, cut it off the bone and serve.
Video Recipe Below