Marinated Eggplant Laura in the Kitchen
Marinated Eggplant Laura in the Kitchen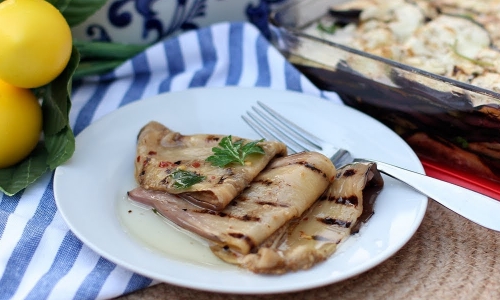 Ingredients
    About 2 lb of Small Firm Eggplants (medium are fine just not really large ones)
    1/2 cup or so of Red Wine Vinegar
    1/2 cup of Water
    Fresh Garlic, sliced
    Fresh Parsley
    Pinch of Red Pepper Flakes
    About 2 cups of Either Light Olive Oil or Sunflower Oil
    Salt
Preparation
  1) Slice the eggplant lengthwise on a mandolin, brush both sides with a little oil and grill on a really hot grill pan until grill marks form but don't overcook them.
    2) In a shallow bowl, mix together the vinegar and water, dip each piece of eggplant in the vinegar mixture, then layer in a shallow pan (not metal) season with salt, add a few pieces of garlic, a little parsley and some hot pepper flakes, top with a small drizzle of oil and continue repeating this step until you're out of eggplant.
    3) Top the eggplant with oil (they need to be almost submerged in the oil) cover and pop in the fridge for about a day before serving.