Stracotto Beef Pot Roast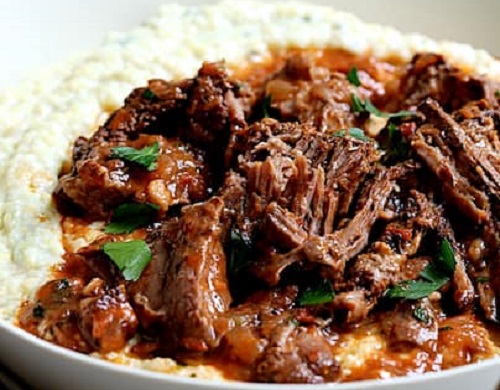 Stracotto is a recipe common in most regions of Northern and Central Italy. "Stracotto" means overcooked in Italian. The important part of the recipe is the slow cooking of the meat at very low temperature to tenderize even the toughest cut of beef. The recipe starts with a soffritto of onion, carrot, celery, and pancetta finely diced and continues with the addition of red wine and sometimes fresh tomato or tomato paste. Serve the Stracotto with polenta or mashed potatoes on the side.
Ingredients
2 tablespoons butter
4 tablespoons extra-virgin olive oil
1 oz (30 g) pancetta, finely diced
1 carrot, finely diced
2 celery sticks, finely diced
1 medium onion, finely diced
1 clove of garlic, finely chopped
2 lb (900 g) beef for roasting
salt and pepper
1 cup (200 cc) red wine
salt and pepper
1 tablespoon tomato paste
1 cup (200 cc)  beef or chicken broth (more if required  for cooking)
Directions
In a large saucepan on medium heat, put butter and olive oil. When the butter starts foaming, add the diced onion, carrot, celery and pancetta.
Add the meat and brown it, turning the meat several times on every side. Season with salt and pepper.
Add the red wine and let the wine evaporate.
Dissolve the tomato paste in the broth.
Add the tomato paste to the pan. Cover and cook covered for  about 3 to 4 hours.
Occasionally turn the meat to cook it on all sides. Adjust salt and pepper. Cook on moderate heat for about 2 hours or until the meat is tender, adding a little more broth if necessary.
Serve warm with its own gravy, and polenta or mashed potatoes on the side.