Melanzane in Carrozza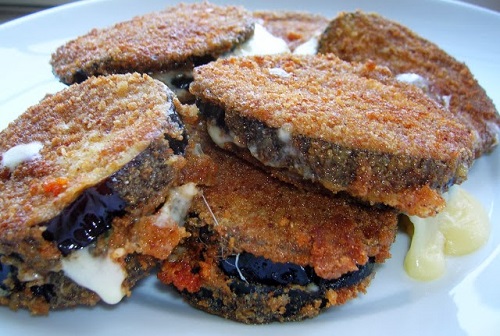 What You Need
2 medium eggplants
Kosher salt
1 cup all-purpose flour, seasoned with salt and pepper
2 large eggs, beaten with a tablespoon of water
2 cups plain bread crumbs
1 pound Italian Fontina Cheese*
12 fresh sage leaves
Peanut oil and olive oil for frying
How To Do
Leave the skin on the eggplant. Slice the eggplant cross wise into 1/4 inch rounds.
Salt the slices of the eggplant with the kosher salt and place in a colander. Once all the eggplant is cut and salted and placed in the colander, place a plate over the top and cover with a heavy weight, like a cast iron pan. Allow the eggplant to drain that way over a dish for an hour.
Remove the eggplant from the colander and wipe each side dry with a paper towel and place the eggplant on a plate, matching up similar sizes to make the sandwiches.
Cut the Fontina cheese into 1/4 inch slices, making them about the size of the eggplant sandwiches. Wash and dry the fresh sage leaves.Place a slice of Fontina cheese on top of a slice of eggplant and top with one sage leaf.  Cover the sandwich with the matching eggplant slice and set aside.  Assemble the rest of the sandwiches with the remaining eggplant, sage leaf and cheese.
Dip your assembled eggplant sandwich first in the flour, coat both sides, then dip in the egg wash both sides, and finally coat in the bread crumbs. Place the sandwich in another dish to dry. Continue with the remainder of the eggplant sandwiches.Allow the sandwiches to dry for about 15 minutes before frying.
Place about an inch high of peanut oil in a large frying pan. Add to that about 1/4 an inch of olive oil, so you have about 3/4 volume of peanut oil to 1/4 volume of olive oil. Eyeball it, it doesn't have to be exact. The olive oil is to add flavor.
When the oil reaches 300 degrees, fry the sandwiches about 2 1/2 minutes each side or until they turn golden brown.Drain on paper towels to absorb extra oil. Wait about 20 minutes before serving. These are best eaten warm. You can sprinkle with some grated Pecorino Romano cheese as well.