Neck Bone Gravy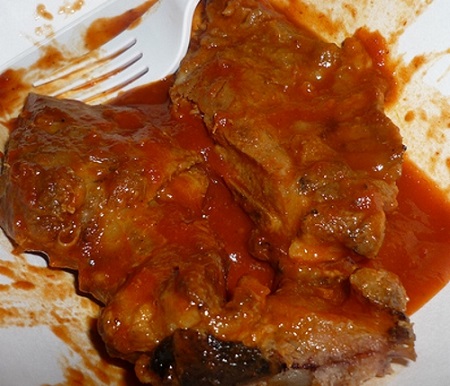 Delicious Neck Bone Gravy recipe which is easy to make and delicious to eat. Serve this gravy  over spaghetti, mostaccioli or any other pasta you can think of. Neck Bone Gravy, like many Italian gravies, gets it's flavor from hours of cooking and stirring.
INGREDIENTS
3 to 4 pounds of pork neck bones

1 Tbls of olive oil

1 28oz can of tomato puree

1 28oz can of tomato sauce

2 28oz cans of water

1 can of tomato paste

2 Tbls of dried basil

1 Tbls of sugar

Salt, pepper and garlic to taste

1 tsp of crushed red pepper flakes (optional)

PREPARATION

Clean and dry about 3 to 4 pound's of pork neck bones

Fry them until brown in a large Dutch oven in about a tablespoon of olive oil and salt and pepper and some garlic powder to taste.

Once browned add to pot one large 28 ounce can each of Tomato Puree and Tomato Sauce and one can of each of water (note: if you like a thicker sauce add any size can of tomato paste and two cans of that size, of water also to this mixture)

Then add salt, pepper and garlic to taste about 2 tablespoons of dry basil and one tablespoon of sugar (very important because it cuts down the acidity) You can add red pepper flakes if you like a little heat to your sauce.

Bring to a high simmer on medium heat and then lower to a slow simmer for about 3 hours stirring every 20 minuets.