Octopus (Polpo) and Potato Salad
Octopus (Polpo) and Potato Salad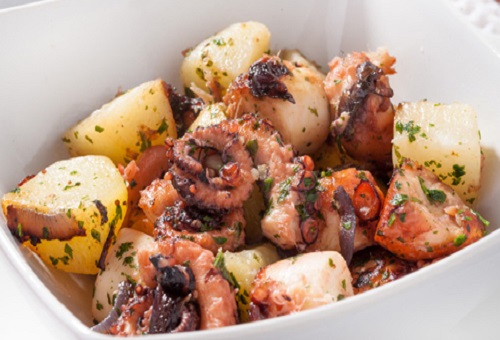 Servings: 4 – 6
Ingredients
1 medium octopus, cleaned (about 2 pounds)
 3 medium russet potatoes, cleaned
1 stalk celery, cleaned and cut into 2 – 3 pieces
2 medium bay leaves
 2 medium cloves garlic, peeled
1 lemon
 1 medium red onion, peeled and sliced
2 tablespoons parsley, minced
 Extra virgin olive oil
 Salt and pepper
Directions
Scrub the potatoes until the dirt on the skin has been removed. Then place the potatoes in a pot and fill it with water to cover the potatoes by about 1 inch. Place the pot on the stove and bring the water to a boil. Boil the potatoes for 30 – 40 minutes or until you are able to pierce through the middle of the potato easily with a fork. At that point, remove the pot from the heat and drain the water. Set the cooked potatoes on a plate and allow them to cool.
While the potatoes are cooking, in a separate pot, add the octopus, celery, bay leaves, garlic and the peel from 1/4 of the lemon as well as a pinch of salt. Fill the pot with water to cover the octopus and place the pot on the stove. Bring the water to a boil and then lower the heat to medium. Simmer the octopus for 50 minutes to 1 hour or until the octopus is soft. When the octopus is finished cooking, remove it from the cooking water and set it on a plate to cool. Discard the water and the rest of the ingredients in the pot.
While the potatoes and the octopus are boiling, place the sliced onion into a skillet along with 2 tablespoons of olive oil. Sauté the onions for about 8 – 10 minutes over medium high heat until they begin to brown and caramelize. Once they have browned, remove the pan from the heat and set the onions aside to cool.
When the potatoes are cool enough to handle, remove and discard the peels. Cut the peeled potatoes into cubes and place them in a large serving bowl.
After cutting the potatoes, cut the cooked and cooled octopus into chunks roughly the size of the potatoes and add them to the serving bowl.
To the serving bowl also add the sautéed onion, the minced parsley and a pinch of salt and pepper.
To dress the salad, juice the lemon and strain out any seeds. Add the strained juice to the serving bowl with the salad and then add a generous drizzle of olive oil over the salad.
Toss the ingredients together thoroughly to combine, adding more olive oil if the salad appears too dry.
Serve the salad slightly warm or at room temperature.