Nonna's Seafood Risotto Recipe (with Nonna) – Laura in the Kitchen
Nonna's Seafood Risotto Recipe (with Nonna) – Laura in the Kitchen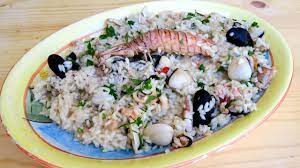 Preparation 10 minutes
Cook time 30 minutes
Serves 4
Ingredients
    1-1/2 lb of Mixed Seafood (shellfish is best here) it's best if it's frozen so if you buy it fresh, throw it in the freezer for a couple of hours
    1 cup of Arborio Rice
    1/2 cup of White Wine (we like a dry wine like Pinot grigio)
    4 Cloves of Garlic
    1/4 cup of Extra Virgin Olive Oil
    4 cups of Stock (I love using a mix of vegetable stock and seafood stock, half and half)
    2 Tbsp of Fresh Chopped Parsley
    Pinch of Hot Pepper Flakes
Preparation
1) Add the stock into a saucepan and keep it on a low simmer on the stove alongside the risotto pot.
    2) In a shallow wide pot, add the olive oil and garlic, heat it up over medium heat until the garlic sizzles, add the seafood along with the hot pepper flakes and allow it to cook for about 3 to 4 minutes or until the seafood releases a lot of the liquid, add the wine and allow the sauce to reduce by half.
    3) Add the rice, and once the liquid has been absorbed by the rice, add a ladle of stock and make sure that that stock has been reduced before adding your next one.
    4) Repeat this process for about 20 minutes or so or until the rice is fully cooked and it's absorbed pretty much all of the stock.
    5) Season with salt to taste and stir in the fresh parsley.