Oyster Stew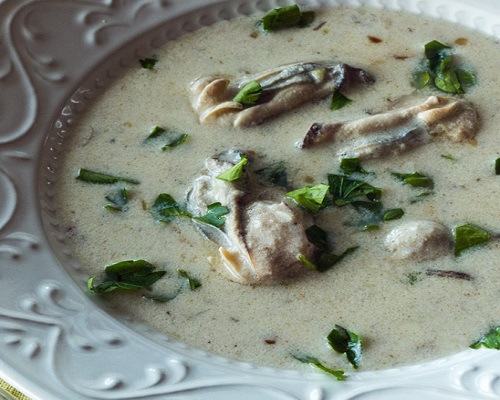 Ingredients
4 tbsp butter
1/2 cup shallots, finely chopped
1/3 cup celery, finely chopped
1-2 cloves garlic, minced
1 pint small shucked oysters and their liquor
2 tbsp unbleached flour
2 cups milk
1 cup half and half
1/2 tsp crushed fennel seed
2 pinches cayenne
salt and freshly cracked pepper, to taste
fresh chopped parsley for garnish
Directions
Melt the butter in a pot over medium heat. Add the shallots, celery and garlic. Cook until the vegetables have softened; about 15-20 minutes. Adjust the heat as needed to prevent the mixture from burning.
While the shallot and celery mixture is cooking, pass the oyster liquor through a fine strainer to remove any sand. Set aside.
When the vegetable mixture has softened, sprinkle the flour evenly over the surface and stir. Gradually stir in the reserved oyster liquor, milk and half and half. Carefully heat the mixture until small bubbles appear around the edges. Do not boil.
Stir in the fennel and cayenne. Taste, and season with salt and pepper as needed.
Stir in the oysters. They don't need to cook for very long (otherwise they might become tough), just until their edges begin to curl; about 2 minutes or so.
Remove from heat and serve the stew immediately. Garnish with the fresh chopped parsley.