Pan Seared Shrimp With Garlic-Lemon Butter
Pan Seared Shrimp With Garlic-Lemon Butter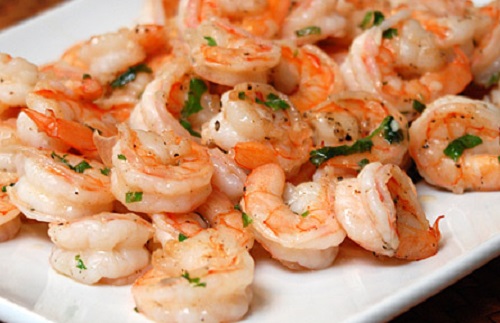 Ingredients
    3 tablespoons butter, softened
    1 medium garlic clove, minced
    1 tablespoon lemon juice
    2 tablespoons fresh parsley leaves, chopped
    1/8 teaspoon salt
    2 tablespoons vegetable oil
    1 1/2 lbs shrimp, peeled and deveined (21/25 count)
    1/4 teaspoon salt
    1/4 teaspoon pepper
    1/8 teaspoon sugar
Directions
    Beat butter with a fork in a small bowl until light and fluffy.  Stir in garlic, lemon juice, parsley and 1/8 tsp salt until combined.  Set aside.
    Heat 1 tbs oil in a 12-inch skillet over high heat until smoking. Meanwhile toss shrimp, salt, pepper and sugar in a medium bowl. Add half of shrimp to pan in a single layer and cook until spotty brown and edges turn pink, about 1 minute. Remove pan from heat; using tongs, flip each shrimp and let stand until all but very center is opaque, about 30 seconds. Transfer shrimp to a large plate.
    Repeat with remaining oil and shrimp; after second batch has stood off heat, return first batch to skillet along with flavored butter and toss to combine. Cover skillet and let stand until shrimp are cooked through, 1 to 2 minutes. Serve with lemon wedges if desired.
    Serves 4  as an entree or 8 as an appetizer.