Strawberry Rhubarb Sweet Focaccia
Strawberry Rhubarb Sweet Focaccia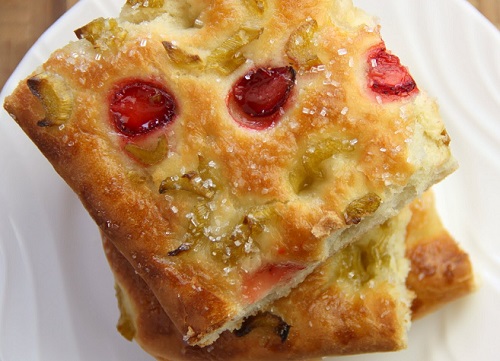 Ingredients
    2  cups warm water
    1 Tbsp. active, dry yeast
    1 Tbsp. honey
    5 cups flour + additional for kneading, as necessary
    1 1/2 tsp. salt
    1/4. cups olive oil
    1/4. cups coconut oil
    2 cups (combined) thinly sliced rhubarb and strawberries
    Pearl sugar
    Simple sugar *optional – 1/4 c. sugar, 1/4 c. water + any additional rhubarb
Directions
Let the yeast bloom in a cup with the water, yeast and honey. The mixture should become nice and frothy after about 10 minutes.
In a large bowl, or stand mixer, whisk together the flour, salt and oil. Knead until a soft dough forms. Only use flour if necessary. The dough should still be soft.
Place the dough in a greased bowl and cover. Allow the dough to double in size. This will take about an hour, depending on the temperature of your room… and eagerness of your yeast!
Spray or grease a jelly roll pan. Once the dough has risen, stretch it to fit the pan. Top the dough with rhubarb and strawberries, sprinkle liberally with pearl sugar. Cover loosely with plastic wrap or a tea towel. If desired, brush the top of the dough with a little simple sugar.
Preheat the oven to 425 degrees.
After the dough rises a second time, bake it for 30 – 35 minutes, or until the top is golden. Brush the top with additional syrup if desired.
Cool, cut and enjoy!