Pandoro Christmas Tree with Custard and Currant
Pandoro Christmas Tree with Custard and Currant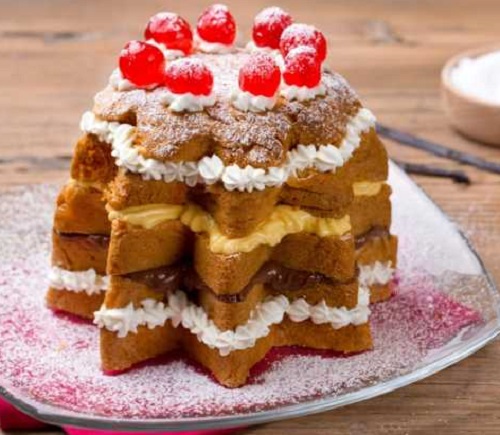 This Christmas recipe will turn your Pandoro into a yummy cake! An easy Christmas cake recipe that everybody will adore.
Pandoro is an Italian Christmas dessert, often served dusted with vanilla scented icing sugar. It's a delicious sweet yeast bread, perfect for the Christmas breakfast.
Italian people also loves eating Pandoro, Panettone and Torrone to conclude the Christmas dinner. These sweets are very typical for this period.
It's funny but there are two categories of Italians in relation to traditional Christmas sweets:  those who loves panettone with raisins and candied orange, citron, and lemon zest and raisins, and those who prefer the simpler Pandoro, especially children.
This Christmas recipe will transform your Pandoro in a cake and everybody will love it!
Furthermore, Pandoro tree is a very easy Christmas cake recipe, perfect to be served to conclude Christmas dinner accompanied with a glass of sparkling wine.
You can have fun choosing the Christmas cake decorations: fresh or candied fruits, chocolate…
Our tip: prepare the custard in advance. Than you will quickly compose the tree and won't waste your precious time on the 25th of December!
Instructions
Custard preparations:
Warm the milk on a low heat with vanilla.
Meanwhile, beat the egg yolks with the sugar and add the sifted flour. Add this mix to the milk and whisk it.
When the mixture has achieved a creamy consistency, remove it from heat and let it cool. Then cover it with plastic roll and put it in the fridge.
Cut Pandoro into slices (1 inch), as you see in the picture.
Put the custard in a sac à poche and rebuild your tree adding layers of cream between the slices. Pay attention to the position of the pandoro slice: each slice cannot be superimposed to the other in order to reproduce the tree effect.
Dust the "tree" with icing sugar.
If you have whipped cream you can put it on the star points. Otherwise you can use the custard.
Wash the blueberries, currants and peel the pomegranate. Use the fruits or other decorations to create your personal tree.
Merry Christmas and Happy New Year!