Seafood Couscous with Squid, Dried Tomatoes and Bottarga
Seafood Couscous with Squid, Dried Tomatoes and Bottarga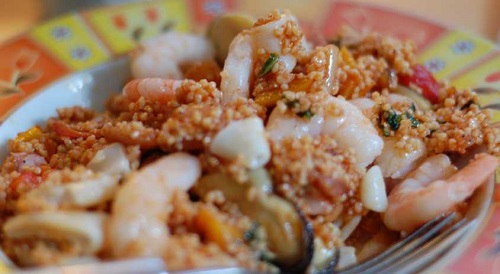 This seafood couscous recipe will lighten your mood and will take you in a journey around the Mediterranean sea. Couscous (or cous cous) is the favorite ingredient of those who love cooking but don't want to spend much in the kitchen! Obviously, we are talking of of the pre-steamed and dried one, instead traditional couscous requires a long preparation. Couscous is typical of Arabic cuisine but is also very popular in Sicily: "Couscous alla trapanese" is a fantastic seafood couscous recipe that will bring a touch of elegance to weeknight dinners.
INGREDIENTS
5 servings
8 cherry tomatoes

14 oz squid

5 shrimps

2 garlic clove

Handful of chopped parsley

Salt to taste

Extra Virgin Olive Oil

a pinch of chili pepper

2 tbs capers

5/6 dried tomato fillets in oil

½ tsp fish stock in powder

14 oz tomato puree

½ glass white wine

5.5 oz cous cous

1.5 oz bottarga

lime few drops
Instructions
First of all wash the tomatoes, cut into small pieces and drain  to remove the water.

Clean and cut the squid into rings. Wash the shrimps.

Cut the dried tomatoes into thin strips.

Panfry lightly the sliced garlic in oil and add salt, parsley, capers, the dryed tomatoes, sprinkle with chili pepper powder.

Add the fish stock concentrate and the diced tomatoes.

When the ingredients begin to moisten, add the squid rings and the shrimps. After a minute add the wine and when it evaporates remove the shrimps. You will add again the shrimps to the sauce only one minute before ready.

After a few minutes add the tomato puree and cook on low heat.

Meanwhile, prepare the cous cous following the instructions on the packaging (precooked couscous wonm't take more than 5 minutes).

When the cous cous is ready, lay it on a serving tray, pour over the sauce with squid, sprinkle with lime juice and a bountiful sprinkling of bottarga.

Serve it hot with steamed vegetables.
Seafood Couscous by Phil Campbell  CC 2.0 |by Timothy Tsui CC 2.0