Pappardelle alla Boscaiola
Pappardelle alla Boscaiola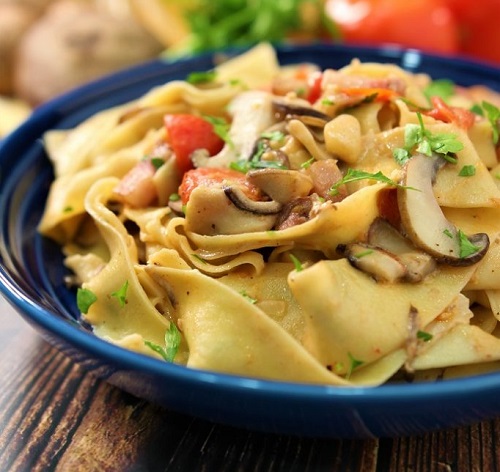 Ingredients
    1 lb. Pappardelle or pasta of choice
    4 Large Shiitake Mushrooms halved and thinly sliced
    12 Baby Bella Mushrooms thinly sliced
    3 Shallots diced
    4 Garlic cloves thinly sliced
    1 pint Cherry tomatoes halved
    1/2 cup Light cream
    4-5 oz. Guanciale cubed (can replace with bacon or pancetta)
    Handful of Parsely chopped, for topping
    Salt and black pepper to taste
    Extra virgin olive oil
Instructions
    Bring a large pot of salted water to a boil, to cook the pappardelle later.
    Heat a large saute pan over medium to high heat and add in the guanciale. Saute until the guanciale starts to turn golden and crispy. Remove the guanciale from the pan and set aside.
    In the same saute pan, add in a large drizzle of olive oil. Add in the garlic and shallot and fry for about a minute, making sure to not let them burn! Mix in mushrooms and continue to saute until tender. Add in the tomatoes and mix together for about a minute.
    Add the guanciale back into the pan and cook for about two to three more minutes, making sure to continuously stir to avoid burning.
    Meanwhile, add the pappardelle into the boiling pot of salted water and cook for one to two minutes less than the package instructions or until al dente. Reserve half a cup of the pasta water.
    While the pappardelle is cooking, pour the light cream into the saute pan and mix together. Season with salt and black pepper, lower the heat, and continue to cook until the pasta is ready.
    Drain the pappardelle and add into the saute pan, along with the reserved pasta water. Mix together and continue to cook over a low flame for another two minutes, allowing the pasta to be fully coated with the creamy boscaiola sauce.
    Remove from heat and serve in a dish topped with a sprinkle of parsley and freshly grated pecorino cheese. Salute and cin cin!