Baked Mushroom Linguine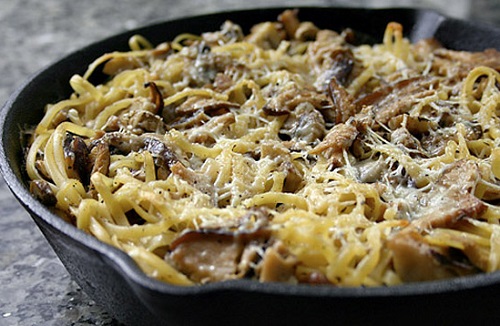 Ingredients
Serves 10 to 12
    4 ounces dried mushrooms, such as porcini or chanterelle
    4 cups boiling water
    2 sprigs fresh rosemary
    2 sprigs fresh thyme, plus 2 teaspoons finely chopped
    7 tablespoons unsalted butter (to lighten, reduce to 2 tablespoons)
    5 tablespoons all-purpose flour (to lighten, reduce to 2 tablespoons)
    1 1/2 cups heavy cream (to lighten, replace with 1 1/2 cups 1% milk plus 4 tablespoons low-fat cream cheese)
    1 onion, diced
    1 pound button mushrooms, stems removed, quartered
    1 pound shiitake mushrooms, stems removed, sliced
    2 1/2 teaspoons coarse salt
    1/2 teaspoon freshly ground pepper
    1 pound linguine
    Unsalted butter, for pan
    1/2 cup grated pecorino Romano cheese
Directions
    To Prep the Dried Mushrooms: Place dried mushrooms in a bowl, and pour 4 cups boiling water over them. Let them sit for 30 minutes.
    Using a slotted spoon, lift out the mushrooms, and place them in another bowl. Press mushrooms to release any retained stock, and pour liquid back into bowl; set mushrooms aside. Strain mushroom liquid through a fine-mesh sieve lined with a paper towel. (You should have about 4 cups of mushroom stock.)
    For the Bouquet Garni: Wrap rosemary and thyme sprigs in cheesecloth, and tie with kitchen twine. Set aside.
    To Make the Cream Sauce: Place a large saucepan over medium heat, and melt 5 tablespoons butter. When the butter starts bubbling, add the flour. Cook, stirring, until the mixture begins to brown, about 3 minutes.
    Still whisking, slowly pour in the mushroom stock. Continue cooking, whisking constantly, until the mixture bubbles and becomes thick.
    Stir in the cream and the reserved bouquet garni. Reduce the sauce to a gentle simmer, and cook 30 minutes, stirring occasionally. (If you use the "lighter" ingredients, reduce the simmering time to 20 minutes.)
    For the Mushroom Filling: Meanwhile, in a large skillet, heat the remaining 2 tablespoons butter over medium heat.
    Add onion, and cook until it begins to soften, about 3 minutes.
    Add button mushrooms, and cook until they release their juices.
    Add shiitakes, reserved mushrooms, and 2 teaspoons chopped thyme, and cook until all are tender, about 5 minutes.
    Add cream sauce to skillet, and stir to combine. Season with salt and pepper, and set aside.
    Preheat oven to 375 degrees, and butter a 9-by-13-inch baking pan.
    To Prepare the Pasta: Boil the pasta according to the manufacturer's directions, but reduce the cooking time by 2 to 3 minutes. Transfer the noodles to a colander, and rinse with cold water to stop the cooking.
    Stir the noodles into the mushroom mixture, and transfer to your prepared baking pan. Sprinkle with grated cheese, and bake until browned on top and mixture is bubbling, about 30 minutes. Transfer dish to a wire rack to cool 5 minutes before serving.