Spaghetti with Spicy Broccoli
Spaghetti with Spicy Broccoli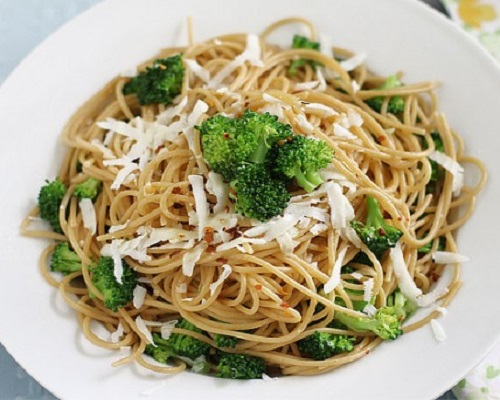 Ingredients
Makes 4 servings
    1 large crown of broccoli
    3 tablespoons extra-virgin olive oil
    3 garlic cloves, minced
    1/2 teaspoon dried hot red pepper flakes
    Salt
    1/2 pound (8 ounces)  spaghetti
    Squeeze of lemon (optional)
    1/2 cup Parmesan, shredded, or to taste
    Optional mix-ins: cherry or grape tomatoes, sautéed mushrooms, toasted pine nuts, sautéed onion (If you'd like to add some meat, try cooked chicken, turkey, shrimp, Italian sausage, bacon or ham.)
Directions
    Bring water to a boil in a large pot for cooking the pasta.
    To Prep the Broccoli: Discard the stalks, and cut the florets into bite-size pieces. Set aside.
    Warm the oil in a large skillet over medium heat. Add garlic and red pepper flakes, and sauté until the garlic is golden. Turn off the heat, and stir in 1/2 teaspoon salt.
    When the water comes to a boil, add salt to taste and the spaghetti. Cook until the pasta is almost al dente, about 5 minutes, then add the broccoli.
    Continue cooking until the pasta is al dente and the broccoli is tender, about 2 minutes. Drain, reserving 1/4 cup of the cooking liquid.
    Add the spaghetti and broccoli to the skillet. Squeeze a little lemon over the top, and toss over high heat. Add the reserved cooking liquid to moisten the dish. Divide into bowls, top with cheese, and serve immediately.