Pappardelle with Spinach, Mascarpone and Pecorino Romano Cheeses
Pappardelle with Spinach, Mascarpone and Pecorino Romano Cheeses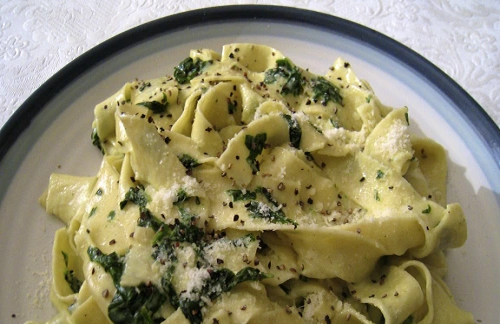 Ingredients
1 lb pappardelle

2 tbsp olive oil

2 tbsp butter

2 cloves garlic, minced

½ to 1 tsp freshly ground nutmeg

9 oz pkg (255 g) baby spinach, chopped

5 oz mascarpone

4 oz whipping cream

10 – 12 basil leaves, chopped

½ cup grated Pecorino Romano cheese

pasta water

salt & pepper, to taste

grated Pecorino Romano cheese

cracked black pepper (optional)
Directions
Cook the pappardelle according to package directions. If using home-made, be aware that it will cook in a few minutes. Time the pasta so that it is finished when the spinach-cream sauce is ready.

Meanwhile, in a large frying pan, melt the butter in the olive oil over med-high heat. Add the garlic and nutmeg and sauté for about a minute.

Add the spinach and continue cooking until the it's fully wilted and much of the liquid has boiled away. Season with salt & pepper.

Add whipping cream and mascarpone, stirring until well combined. Add a little pasta water to slightly thin the spinach-cream sauce. Bring to a simmer. Season with salt & pepper, to taste.

Drain the cooked pasta and add to the frying pan. Stir well to combine.

Add the basil and Pecorino Romano and stir well. If pasta seizes (too dry), add enough pasta water to moisten the pasta to your liking.

Serve garnished with a good sprinkling of grated Pecorino Romano cheese and optional cracked black pepper.
Pappardelle with Spinach, Mascarpone and Pecorino Romano Cheeses