Wilted Spinach Salad Recipe
Wilted Spinach Salad Recipe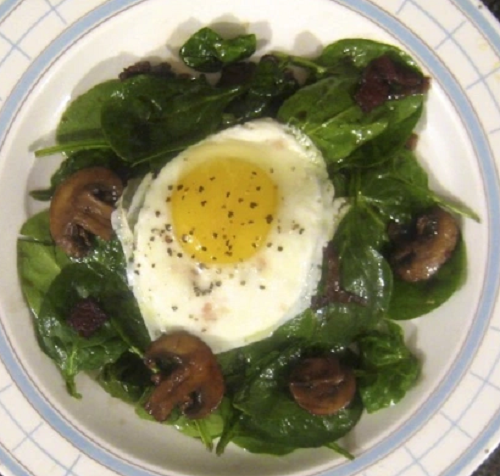 serves 4
Ingredients
2 tbsp extra virgin olive oil, separated

1/2 lb bacon cut into 1/2 inch strips (lardons)

1 shallot, sliced

1/2 lb crimini mushrooms, sliced or quartered

1/2 cup chicken stock (water may be substituted)

4 whole eggs

1 bag (8 oz) pre-washed baby spinach

6 tbsp balsamic vinegar, more or less to taste

salt & pepper, to taste
Directions
Add 1 tbsp of olive oil to a sauté pan over med-high heat. Add bacon and sauté until cooked and crispy along the edges.

Add the shallots and continue sautéing until translucent. Add the mushrooms and cook for a couple of minutes until soft.

Use the chicken stock to deglaze the pan, then bring to a boil, reduce heat, and simmer until the liquid is reduced by half.

Add all but 1 tbsp of the balsamic vinegar and stir. Taste the dressing and adjust, using more balsamic or olive oil, depending upon your preference. Remove from heat.

In another, non-stick, skillet, heat 1 tbsp of olive oil over med-low heat.

Gently add each of the 4 eggs to the pan, being careful to keep the yolks whole. Season with salt & pepper.

Fry the eggs until the whites are thoroughly cooked but the yolks remain soft.

Dress the spinach with the warm dressing in a large bowl. Mix well to allow the spinach to wilt evenly.

Apportion the salad across 4 plates. Place a fried egg atop each salad and serve.
A Slightly Wilted, Very Tasty, Surprisingly Filling, Spinach Salad