Pasta alla Norma, a Sicilian Recipe
Pasta alla Norma, a Sicilian Recipe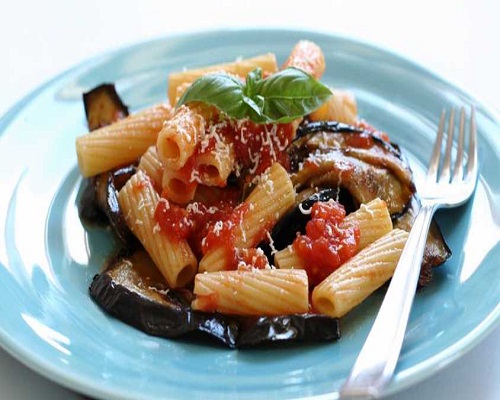 INGREDIENTS
1 lb long pasta or alternatively Rigatoni
1 cup grated Ricotta Salata
3 eggplants
2 cloves of garlic
olive oil as needed for frying and 4 tablespoons for the tomato sauce
basil
2 lb peeled tomatoes (or 2 cans)
salt
pepper
Ricotta salata is an extremly versatile cheese. It can be made with sheep or goat's milk and you can use it on salads, to substitute Feta Greek cheese, in sandwiches or simply sprinkle it over your pasta and risotto recipes. That's why there is plenty of recipes with Ricotta Salata. Try it and you will love the milky, salty and slightly sharp flavor of this aged ricotta, able to enrich all your dishes!
Sicilian Pasta Recipe with Ricotta Salata Cheese
One of the most popular dishes with Ricotta Salata is Pasta alla Norma, a typical Sicilian dish prepared with fried eggplants, tomatos, basil and, obviously, cheese!
Instructions
Cut the eggplant in ½-inch thick slices.
Sprinkle them with some salt and let them sit and release moisture for 30 minutes.
Fry thems in abundant olive oil until they are soft and slightly brown. Lay them out on a plate and put aside.
Cook the garlic in 4 tablespoons of olive oil until it begins to color, then add the tomatoes, salt and pepper and cook until it is nicely saucy and at the end add some leaves of basil.
Meanwhile cook the pasta in salted water and drain it.
Cut the fried eggplants into thin stripes and add them to the sauce.
Then toss the pasta with the tomato sauce and the eggplant stripes.
Add some basil and finally sprinkle with grated Ricotta salata, of course!