Pasta Con Cipolle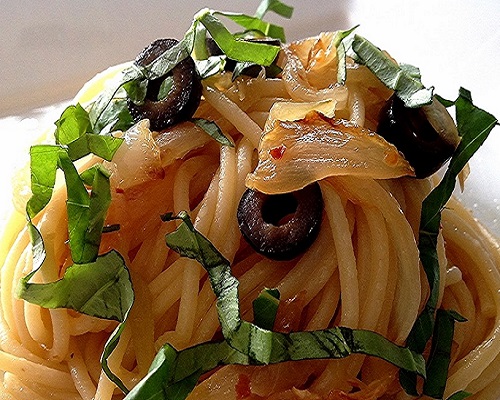 Serves: 4
Prep: 15 minutes
Cook: 18-20 minutes
Ingredients
1 lb. Pasta cooked according to package directions ( I like spaghetti for this dish)
3 Large Sweet Onions – sliced thinly
1/3 C. Extra Virgin Olive Oil + extra for a finishing drizzle (The Extra Virgin adds flavor.)
3/4 C. Chicken Broth (Vegetable broth can be used if preferred)
1/4 Tsp. Red Pepper Flakes
2 Tbsp. Butter
1/2 C. Sliced Olives (Regular Black or Kalamata)
Kosher Salt and Freshly Ground Black Pepper to taste (lots of pepper!)
Fresh Basil chopped for garnish
Plenty of grated cheese to serve
Instructions
Cook the sliced onions in the Extra Virgin Olive Oil over medium high heat about 6 minutes.
Add the broth and red pepper flakes and cook about 10 minutes more until the onions are tender and golden in color.
Add the butter and melt in.
Add the olives and cook a minute more.
Taste for seasoning and add salt and pepper as desired.
Pour the sauce over your pasta and toss well.
Finish with a good drizzle of Extra Virgin Olive Oil.
Garnish your PASTA CON CIPOLLE with fresh basil and serve with plenty of grated cheese. Parmigiano-Reggiano, Asiago, or even Pecorino are all good with this.