PASTA WITH SWISS CHARD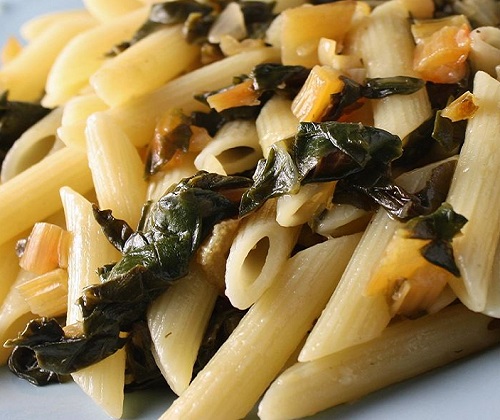 Prep: 10 minutes
Cook: About 25 minutes
Ingredients
1 lb. Pasta cooked according to taste – I prefer a chunky variety like ziti, penne, rigatoni, tortelloni
3 Tbsp. Olive Oil
1 Large Clove garlic – chopped finely
1 Large Bunch Swiss Chard – green, red veined, or rainbow (yellow and red) – cleaned – chop stalks, if using and tear the leaves into pieces
3 C. Chopped tomatoes – 2 14 oz. Cans or 1 28 oz. Can works. If tomatoes are whole – chop them or pull them apart with your hands!
Piece of rind of any delicious Italian cheese if you have one – adds soooo much flavor
1/8 Tsp. Red Pepper Flakes
Salt and pepper to taste
Some Fresh Parsley – chopped
Grated cheese for serving – your choice of Parmigiano-Reggiano, Pecorino, Grana Padano suggested
Instructions
Clean your chard by soaking or rinsing and draining.
Chop your Swiss Chard as explained above in the ingredients section.
Place the olive oil in a large pan and add the garlic. Cook over medium heat for just a minute – do not brown or burn.
Add the Swiss Chard, tomatoes, rind, red pepper flakes, and salt and pepper.
Simmer at medium high until most of the liquid has cooked off, turning occasionally. This takes about 20 minutes. You should have a thick and concentrated sauce with the greens left.
Toss with the pasta.
Serve with grated Parmigiano-Reggiano, Pecorino, or Grana Padano.