Pasta Fritters with Prosciutto and Mozzarella
Pasta Fritters with Prosciutto and Mozzarella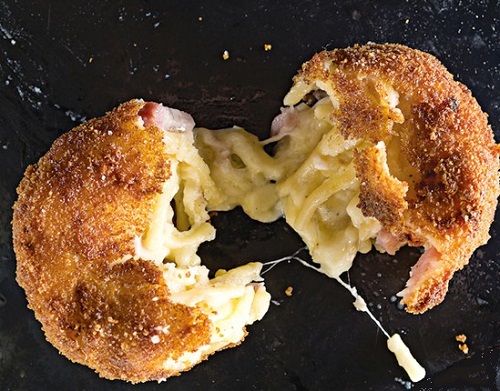 Ingredients:
10 tbsp unsalted butter, plus more for greasing
1 and 1/2 cups all-purpose flour
5 cups heavy cream
Kosher salt
Freshly ground black pepper, to taste
1 lb dried spaghetti
4 oz cooked prosciutto, cut into 1/4-inch pieces
8 oz smoked mozzarella, cut into 1/4-inch pieces
Canola oil (or extra virgin olive oil), for frying
2 cups plain bread crumbs
Directions:
Melt butter in a 1-qt saucepan over medium-high heat.
Add 1/2 cup flour.
Cook, stirring, 2 minutes.
Add cream and boil.
Reduce heat to medium.
Cook until thickened, 4-5 minutes.
Set sauce aside.
Bring a large pot of salted water to a boil.
Grease a 9″ by 13″ baking dish.
Cook pasta until 'al dente', about 7 minutes.
Drain and transfer to a bowl.
Add reserved sauce, prosciutto, mozzarella, salt, and pepper.
Mix until combined.
Press pasta mixture into baking dish.
Cover with plastic wrap and refrigerate until firm, about 1 and 1/2 hours.
Pour enough canola or olive oil into a 6-qt saucepan to a depth of 2 inches.
Heat until a deep-fry thermometer reads 325°F.
Whisk remaining flour with 1 cup water into a batter.
Place bread crumbs in a bowl.
Using a 2-inch round cutter, cut out 30 rounds out of pasta mixture.
Dip rounds in batter.
Roll in bread crumbs.
Fry until golden and crisp, 2-3 minutes.
Serve hot. Makes 30 fritters.