Penne arrabbiata – Italian recipe
Penne arrabbiata – Italian recipe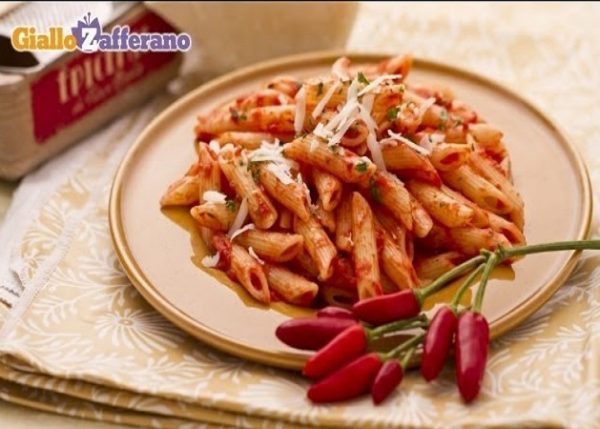 If you have unexpected guests and you don't know what to cook, surprise them with a great pasta dish, the penne arrabbiata… let's cook it together!
Penne arrabbiata
Ingredients
(4 servings)
• 14 oz (400 g) of ridged penne pasta
• 2 cloves of garlic
• 4 tbsp of extra virgin olive oil
• 1 cup (100 g) of grated pecorino romano cheese
• 2 red chili peppers or chili powder
• 1 2/3 cups (400 g) of ripe tomatoes
• 3-4 tbsp of parsley
Directions
First of all, blanch the tomatoes in boiling water for 2-3 minutes; then drain and allow to cool a bit, and now remove the skin and the inner seeds… after that cut into cubes.

Now move on to the sauce, meanwhile start the water for the pasta; so add the oil to a pan… the cloves of garlic — add them whole, if you want to remove them later, or crushed, as you like — and of course the chili pepper — I am using fresh chili peppers, but chili powder is fine as well.

Let it brown for a couple of minutes.

Now add the tomatoes… stir a bit and cook for 5 minutes, in the meantime salt the water… and boil the pasta.

The pasta is ready, and so is the sauce, that has been salted, so remove the garlic… drain the pasta and toss in the pan… stir… and sprinkle with plenty of chopped parsley.

The penne arrabbiata is ready to eat, grate the pecorino cheese over the top… and buon appetito!